Three U.S. Marines are missing after an MV-22 Osprey tilt-rotor aircraft was involved in a mishap off of the east coast of Australia around 4:00 p.m. on Saturday. The other 23 of 26 personnel aboard have been rescued.
Some media reports state that the Osprey slammed into the flight deck of the transport ship Green Bay whilst attempting to land and then slid into the water.
The Australian government said on Sunday it would deploy its armed forces to assist in recovery efforts, after the U.S. Marine Corps shifted from search and rescue operations to recovery operations.
"The transition comes after teams led continuous sustained search efforts supported by aircraft and ships," the Marine Expeditionary Force, based in Okinawa, Japan, said in a statement. "As the sea state permits, recovery efforts will be conducted to further search, assess and survey the area."
The incident took place off the coast of Shoalwater Bay, Queensland. The aircraft involved in the mishap had launched from USS Bonhomme Richard (LHD 6) and was conducting regularly scheduled operations when it entered the water.
The ship's small boats and aircraft immediately responded in the search and rescue efforts. Australia's Bureau of Meteorology described wind, swell and atmospheric conditions at the time of the incident as "benign."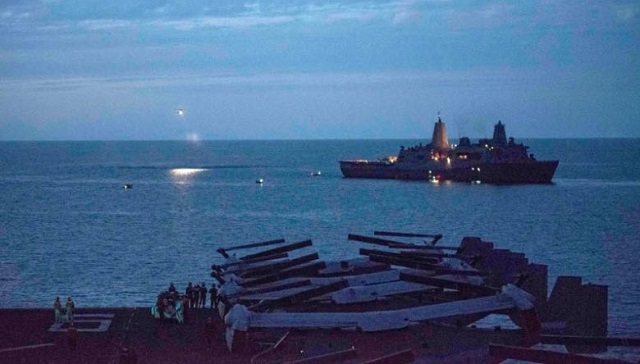 The marines are currently operating with the Bonhomme Richard Expeditionary Strike Group as part of a regularly-scheduled deployment in the Indo-Asia-Pacific region.
The tilt-rotor aircraft had been in Queensland as part of the Talisman Sabre joint training exercise between Australian and the U.S., which ended on July 25.
The Osprey, nicknamed the "widow maker," is designed to take off like a helicopter and rotate its propellers to fly like a plane. Its development was nearly canceled after the deaths of 23 Marines during flight testing in 2000, but its speed and range continues to make it a valued asset.
The circumstances of the incident are currently under investigation.
The MV-22 Ospreys arrived in Australia in April 2017.