Third CO2 Transport Ship Ordered from China for Northern Lights
Northern Lights, a commercial carbon transport and storage company started in a partnership between Equinor, Shell, and TotalEnergies, ordered its third dedicated CO2 transport ship, while construction is still underway on the company's first two ships. They said the awarding of the shipbuilding contract for a third vessel is in response to an increasing demand for cross-border CO2 transport and storage.
The business plan for the company calls for providing services to industrial carbon emitters in Norway and across Europe. Northern Lights expects to be the first company to offer commercial services that would transport captured CO2 from the emitters' locations, including the Norcem Brevik and Hafslund Oslo Celsio carbon capture facilities. Liquified CO2 will be transported to the company's onshore receiving terminal in Øygarden, in western Norway. Using pipelines, the CO2 will be moved to permanent storage in a reservoir more than a mile and a half under the seabed in the North Sea.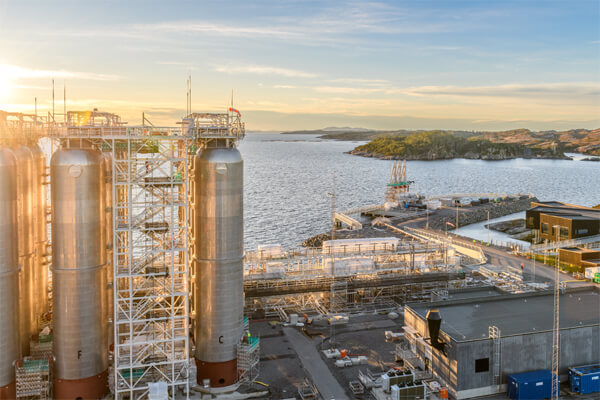 Work was recently completed on installing the 12 storage tanks at the receiving terminal in Norway (Northern Lights)
Northern Lights reports it is on schedule to start operations in 2024. Approximately three months ago, they announced that all 12 CO2 storage tanks had been successfully installed at the facility Øygarden. The tanks are more than 100 feet tall and have a capacity to store nearly 700 tonnes of CO2 each.
Work of the first two purpose-built CO2 transport vessels began at the Dalian Shipbuilding Offshore Co. shipyard in Dalian, China in November 2022 with the steel cutting for the vessels. Assembly began in April 2023 with work now underway as seen in photos from a recent shipyard tour.
Each of the vessels, which will be 426 feet in length, has purposefully designed pressurized tanks. They will transport the liquid CO2 at approximately 15 bar(g) pressure and -26°C temperature. Each vessel will have a capacity for 7,500 cbm of liquified CO2.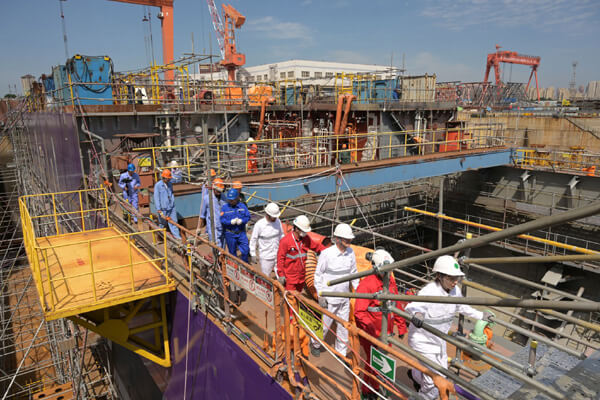 Work underway on the first two vessels building in China (Northern Lights)
In addition to their unique capability to transport CO2, the ships are designed to operate on LNG fuel and will have a rotor for wind-assisted propulsion. They will also employ an air lubrication system along the hull for increased fuel efficiency.
"K" Line LNG Shipping (UK) Ltd., a London-based subsidiary of Japan's Kawasaki Kisen Kaisha, Ltd. ("K" Line) agreed to operate the ships for Northern Lights. The ships are classified by DNV and will be registered in Norway and sail under the Norwegian flag with mainly Norwegian shipboard personnel.
The first two ships are scheduled for delivery in 2024. The company said the third ship will have the same characteristics but did not report when it would be delivered.