The Chennai Six Fly Home
The Chennai Six, along with some of the crew of the Seaman Guard Ohio, have now left India, marking the successful culmination of a four-year fight to release them from prison.
As they fly home, The Maritime Executive pays tribute to their efforts, and to those of other maritime security professionals, in protecting seafarers from piracy. The men are home, but the fight against piracy continues:
2017-04-16: Two Somali Pirates Shot Dead
Voice of America reports that foreign naval forces have shot dead two Somali pirates in international waters.
The pirates were attempting to hijack an unidentified ship near the Gulf of Aden on Saturday. Another pirate was injured during the incident.
Ahmed Abdullahi, an official with the anti-piracy force in the Puntland region, said the men were from a group of nine pirates. The others escaped.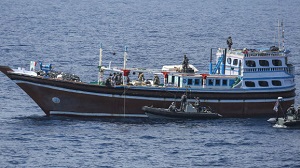 2017-05-23: Somali Pirates Hijack Iranian Fishing Vessel
On Tuesday, Somali pirates captured an Iranian fishing boat for use as a mother ship for attacks on larger merchant vessels, according to the mayor of a port town in Puntland. In the past, Somali pirates often captured fishing vessels and their crews in order to extend their range, and they successfully operated as far out as the west coast of India.
Ali Shire, the top official in the town of Haabo, northern Puntland, informed Reuters of the hijacking. "The Iranian fishing vessel does not have a license [to fish] in Puntland," he said. Somali pirates frequently cite illegal, unlicensed and unregulated fishing by foreign vessels as a source of grievance.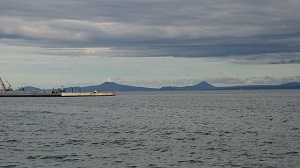 2017-07-05: Two Vietnamese Seafarers Beheaded
Suspected members of the Abu Sayyaf Group in Basilan sent a message to the Philippine government when they beheaded two abducted Vietnamese seafarers from the bulk carrier ship MV Royal 16.
Hoang Thong and Hoang Va Hai were among the six Vietnamese seafarers abducted by Abu Sayyaf pirates on November 11, last year, in the vicinity of Sibago Island. A third seafarer Hoang Vo, 28, escaped from the custody of his captors and was successfully rescued by Philippine soldiers patrolling Sampini village in Sumisip municipality.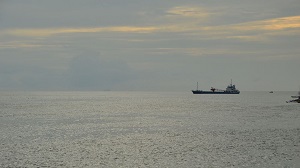 2017-07-23: Philippine Forces Hunt Terrorists at Sea
As fighting between terrorists and government forces in Mindanao continues, the Philippine government has rolled out countermeasures to prevent the escape of members of the ISIS-inspired Maute group via maritime routes. Manila has announced two major maritime security initiatives to prevent ISIS-inspired militants from fleeing to neighboring islands near the Malaysian and Indonesian borders.
Making its first move, the Philippine government signed a maritime security agreement with Indonesia and Malaysia to hold joint trilateral naval patrols in the Philippine-Malaysia-Indonesia maritime border area.
2017-08-04: Somali Pirates Sentenced to Six Months Plus Time Served
On Friday, a court in Mumbai sentenced the 15 alleged pirates from the Prantalay 14 hijacking to six months in prison plus time served. The Somali nationals were accused of taking control of the Prantalay, a Thai fishing boat, for use as a pirate mother ship.
In January 2011, the accused attempted to board a merchant ship off the coast of Kerala, 1,400 nm from Somali shores. The vessel sent a distress call and the Indian Navy and Indian Coast Guard responded. 10 of the 25 pirates aboard the boat died during the firefight that followed, a skirmish known in India as the "Battle of Minicoy Island."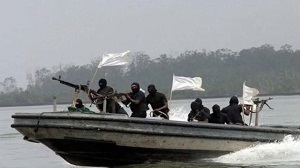 2017-10-23: Nigerian Pirates Kidnap Six Boxship Crewmembers
At 0600 on Saturday morning, eight pirates boarded the 3,000 TEU container ship Demeter at a position 40 nm south of Bonny Island, Nigeria. The attackers took six crewmembers hostage. All 12 remaining members of her crew are unharmed, and they navigated their vessel to safety, according to a statement from the ship manager.
The kidnapping victims include the Demeter's cook, bosun, second engineer, second officer, captain and chief mate. Efforts to secure their release continue, and the vessel's flag state and owner are participating.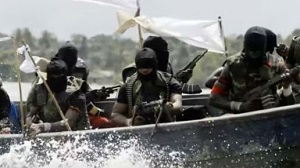 2017-11-15: Nigerian Navy Rescues 10 Mariners from Pirates
On November 11, the Nigerian Navy thwarted an attempted pirate attack on a bulker in the Gulf of Guinea and successfully rescued 10 seafarers from a kidnapping in progress.
On Saturday morning at 0822 UTC, a group of armed pirates boarded the bulker as it drifted at a position some 17 nm south of Bonny Island, Nigeria, an area known for a high risk of piracy. The attackers entered the ship's bridge and opened fire, damaging the windows. They stole personal belongings from the crew and kidnapped 10 seafarers, loading the crewmembers into their boat and heading off.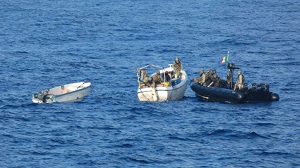 2017-11-19: Italian Marines Detain Six Suspected Pirates
EU NAVFOR Somalia's Flagship, the Italian vessel ITS Virginio Fasan, has apprehended six suspected pirates and seized their vessels.
Six crew of a motor whaler, acting as mother ship, and a skiff have been detained following attacks on a 52,000 ton container ship and a fishing vessel. The attacks reportedly took place over a 24 hour period on November 17 and 18 in the Southern Somali Basin, an area known for piracy. During the incidents a number of rocket propelled grenades were fired against the container ship. However, adherence to piracy guidelines BMP4, the presence of a security team on one of the vessels and good seamanship avoided any damage or injuries, and all crew and vessels are now safe.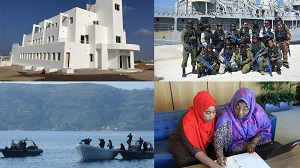 2017-12-04: Somalia Signs Jeddah Amendment on Illicit Maritime Activity
Somalia has become the 14th signatory to the Jeddah Amendment to the Djibouti Code of Conduct – the instrument developed and adopted by countries in the Western Indian Ocean and Gulf of Aden that has been a key factor in repressing piracy and armed robbery against ships operating in that region.
The Amendment significantly broadened the scope of the Djibouti Code when it was adopted at a high-level meeting in Jeddah, Saudi Arabia in January 2017. It covers measures for suppressing a range of illicit activities, including piracy, arms trafficking, trafficking in narcotics, illegal trade in wildlife, illegal oil bunkering, crude oil theft, human trafficking, human smuggling and illegal dumping of toxic waste.