Texas City Oil Terminal Hosts First VLCC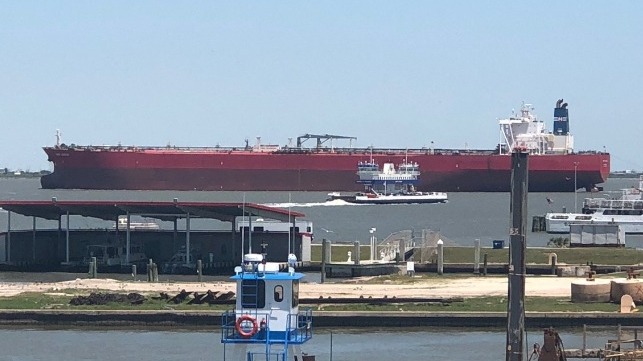 Just days after the announcement of a planned VLCC-capable terminal at the mouth of Corpus Christi Bay, the Enterprise Product Partners terminal in Texas City hosted its first supertanker, the 300,000 dwt Nave Quasar. The Quasar is now the largest tanker ever to enter the busy Houston Ship Channel.
The Enterprise terminal is not an export facility at present, but like other oil handling piers on the Gulf Coast, it could be repurposed to serve the burgeoning volumes of American crude headed for overseas markets. In May 2017, Occidental conducted a test with the VLCC Anne at its terminal in Ingleside, on the north side of Corpus Christi Bay.
In a statement to Reuters, an Enterprise spokesperson confirmed that "the arrival of the Nave Quasar at our Texas City dock is part of a test run to confirm that the facility can accommodate a VLCC." He added that the results will inform planning for "possible VLCC loadings in the future."
The Enterprise terminal does not have the depth alongside to handle a fully-laden VLCC - at least, not yet. But these giant supertankers offer the lowest unit cost per mile for crude shipments departing the Gulf Coast, creating an incentive for terminal operators to invest in the infrastructure to handle them.
At present, only one terminal in the U.S. is equipped to load VLCCs down to the marks. That facility, the Louisiana Offshore Oil Port (LOOP), began crude exports from its loading buoys in February. No waterfront facility on the Gulf has the 75 feet of depth required to handle the giant vessels in laden condition.
However, LOOP may have competition in Corpus Christi within the next few years. Buckeye Partners, Phillips 66 and Andeavor are teaming up on a giant crude storage and loading terminal in Ingleside, Texas, near the entrance to Corpus Christi Bay. Its first phase calls for 3.4 million barrels of crude oil storage capacity, a connection to the new the Gray Oak pipeline and two deep-water berths capable of handling VLCCs. Buckeye says that it has room to expand to up to 10 million barrels of storage and multiple additional docks and inbound pipelines.