Testing Underway for Next Generation of Straddle Carriers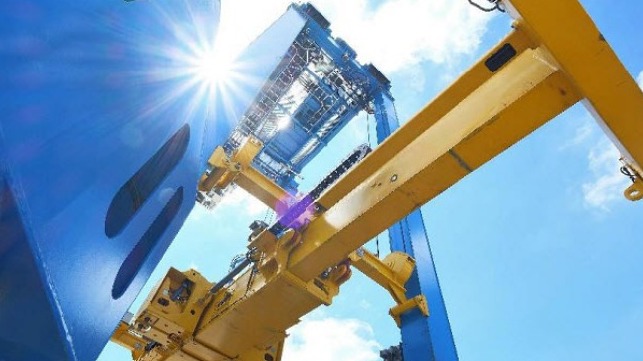 Port equipment manufacturers are expanding straddle carrier technology with new developments in autonomy and fuel efficiency underway. Most recently, ZPMC announced this week that its straddle carrier with an autonomous navigation system has entered its final test phase in Shanghai.
The straddle carrier incorporates diesel and battery hybrid capability, wheel-side synchronous motor drive and eight-wheel hydraulic independent steering. Using the benefits of both manual driving and driverless technology, it can be switched freely between the two modes, depending on the situation. The driverless technology uses a new integrated navigation and positioning method, says ZPMC, with positioning accuracy and control levels among the highest in the world.
There are over 1,000 container terminals around the world operating around 4,000 straddle carriers, but less than five percent use automated equipment. The company expects its automated straddle carriers to reach 20 percent of the global market in the next five to 10 years.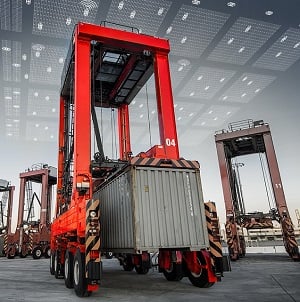 Driverless technology is also being developed by Kalmar, part of Cargotec. The company won a tender to supply an automated straddle carrier system for EUROGATE as its Container Terminal Wilhelmshaven late last year. Kalmar will deliver four automated four-high straddle carriers as well as an emulation system for the container terminal. Both the live equipment and emulation environment will use Kalmar's Terminal Logistics System (TLS), which allows all automated equipment, process automation solutions and access control, security and failure monitoring devices to be controlled via a single platform. Kalmar TLS is an advanced equipment control system pre-integrated with the Navis N4 terminal operating system (TOS).
The decisive factors for the choice were Kalmar's reassurance that it could provide a system capable of mega-terminal scale as well as integrating equipment and terminal operation systems from any third party. EUROGATE is managing the pilot project in cooperation with APM Terminals on an area of EUROGATE Container Terminal Wilhelmshaven's site which is not used operationally and does not interfere with day-to-day operations. The pilot project is designed to prove that automated straddle carrier technology is fully functional, safe and ready for the roll-out. The first Kalmar vehicles will be delivered in the fourth quarter of 2018.
After completion of the pilot project (expected to be the end of the second quarter of 2019), the results will be made available to all project partners. Subsequently, EUROGATE will decide whether and at which sites to deploy the automated straddle carrier system.
Order for next-generation electric and hybrid straddle carriers
This week, Kalmar concluded a deal with Hamburger Hafen und Logistik AG (HHLA) to supply 10 new straddle carriers. The new order from HHLA comprises nine Kalmar straddle carriers with diesel-electric powertrains and one Kalmar hybrid straddle carrier, which features a maintenance-free regenerative energy system. All 10 next-generation machines will feature new robust mobile drives, a completely redesigned electrical system for the upper frame and spreader, a more spacious electric cabinet layout and LED working lights as standard. The complete electrical and technical redesign brings a huge variety of benefits for terminals using straddle carriers for container handling, with increased reliability and productivity being the most significant, says Kalmar.
Intermodal automation solution planned for Qube's Moorebank Logistics Park, Sydney
Kalmar and Navis announced in June that they were awarded the contract to supply a fully automated intermodal terminal solution for Qube's Moorebank Logistics Park in Sydney, Australia. The order includes the supply of the OneTerminal solution comprising Kalmar's automated train handling, automated yard crane and automated horizontal transportation equipment and the Navis N4 terminal operating system (TOS). Kalmar deliveries will start during the second half of 2019, and the solution will be extended step by step with the complete setup estimated to be operational in 2022.

The OneTerminal solution will comprise both yard crane and horizontal transportation equipment, including four Kalmar Automated Stacking Cranes, eight automated Kalmar Rail-Mounted Gantry Cranes, as well as eight hybrid Kalmar FastCharge AutoShuttles and their charging stations. Kalmar and Navis will also supply the necessary automation hardware and software for the terminal, including Navis N4 which is used by more than 280 terminal operators worldwide.