Crews are working to clear a path through what has been called one of the biggest ice covers on the Great Lakes in decades that left 18 vessels stuck since Monday, including one freighter with a damaged hull.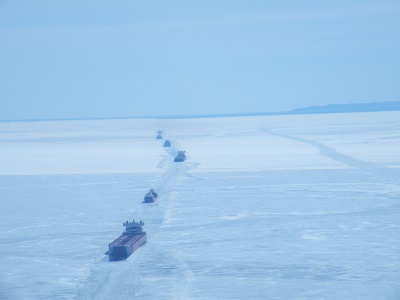 The Canadian Coast Guard is working in concert with the United States Coast Guard to ensure a long line up of ships will be able to travel safely through heavy ice conditions in Whitefish Bay on eastern Lake Superior.
As of Wednesday afternoon, there were 18 vessels waiting to move. Two of those vessels have now cleared the ice field with the assistance of the Canadian Coast Guard Ship Samuel Risley.
CCGS Samuel Risley, and the United States Coast Guard cutters Mackinaw, Alder, and Hollyhock have spent several days creating tracks through the ice. Once those tracks are established then direct escorts through the ice will be made, and the ships can get underway to various locations throughout Lake Superior and towards the St Marys River.
The Canadian Coast Guard icebreaker, CCGS Pierre Radisson, has been deployed to assist in this icebreaking mission. CCGS Pierre Radisson, home-ported in Quebec City, has just arrived on lower Lake Superior and will join this effort to get all of the ships safely underway to their destinations.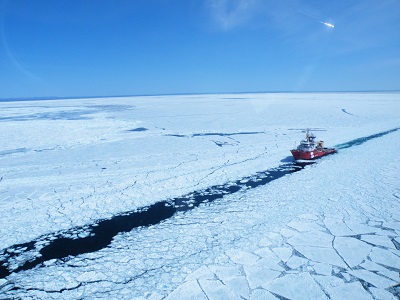 Officials say that warmer air and a sudden change of wind loosened the ice and moved it around in Whitefish Bay, trapping the vessels just northwest of the Soo Locks. The ice packed into the eastern side of Lake Superior has halted movement to the east and west, making it difficult to free the ships. The ice has backed up the shipping of Canadian grain, U.S. iron and steel and other products to one of the most important economic regions in North America.
Two U.S. cutters and the Canadian Coast Guard ship Samuel Risley have already been working to free the ships from the 35-mile ice field and will soon be joined by another powerful ice cutter.
The damaged freighter Kaye E. Barker is expected to transfer its load of iron ore before being relocated for repairs. Officials stated that they expect to have all vessels free by Thursday.