Tanker Sailing to Ukraine Damaged by Mine in the Black Sea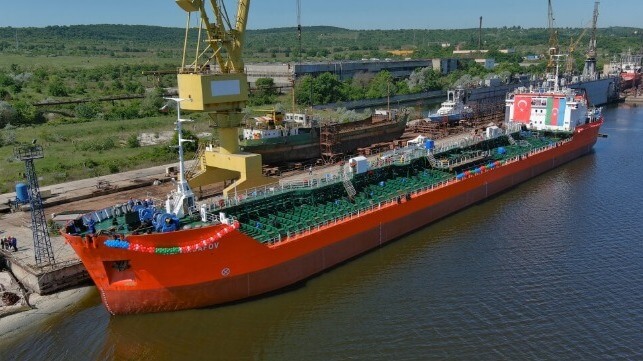 Reports from Ukraine are that a Turkish-owned product tanker struck a mine early on October 15 as it was approaching the Danube estuary. It is the third vessel in the past month that was believed damaged by mine while Ukrainian officials are saying Russia had hit six previous ships since the end of the grain export agreement in July.
The tanker Ali Najafov, 6,600 dwt and registered in Liberia, was reported to be inbound transporting 5,600 tons of diesel fuel when an explosion occurred near the Sulina channel. Built in 2001, the vessel is 424 feet in length. It departed Batumi, Georgia on October 11.
The explosion was believed to have occurred before it entered the Bystroe Canal as it was heading into the Danube and one of Ukraine's ports. Initial indications were that the crew was safe and that there was only minor damage. Ukrainian media is now saying the vessel's hull was holed and that it is requiring assistance from tugs as its main engine has failed.
The Bystroye Canal was reportedly closed after the incident while they were investigating. Two tugs were sent to assist the tanker and are reported to be accompanying the vessel along the Danube.
Ten days ago, security consultants and the media reported that another Turkish vessel was damaged by a mine off the coast of Romania with minor damage to one of its ballast tanks. The following day however the authorities in Turkey and Ukraine denied the reports that the general cargo ship Kafkametler had been hit by a mine. In their account of the incident, there was an explosion 15 to 20 meters behind the vessel.
Similarly, on September 20, the Seama, a 4,251 dwt cargo ship registered in Togo requested assistance saying it was taking on water at the stern. Officials were investigating a possible mine strike. Again, it happened in the area near Sulina.
UK officials have repeatedly warned that they believed Russia was again mining Ukrainian waters and the approaches to the ports. The UK said that the Royal Air Force has increased patrols over the Black Sea in an effort to discourage Russia from interfering with commercial shipping.
Ukrainian officials on Friday said that a total of 21 ships have already loaded cargo and used the humanitarian channel established in August after the grain export deal ended. A further four ships they said have entered Ukrainian ports to load grain or other cargoes. However, they said since August six commercial ships had been damaged by mines or the attacks on Ukrainian ports. They contend that the ports have been hit 150 times since August and that over 30,000 tonnes of grain have been destroyed.