Turkey and Ukraine Deny Reports of Mine Strike on Cargo Ship off Romania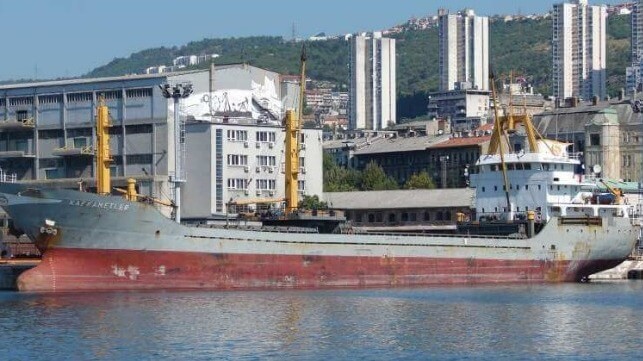 Officials from both Turkey and Ukraine are denying earlier reports that a Turkish general cargo ship inbound to Ukraine struck a mine on Thursday. They are reporting that an inspection of the vessel the Kafkametler showed no damage and that there was no injury to the crew.
"The explosion in question did not occur on the ship and there was no evidence of a mine explosion," the General Directorate of Maritime Affairs of the Ministry of Transport and Infrastructure for Turkey wrote in an online statement. They denied the media reports saying that they had been in touch with the vessel and that there was no contact with a mine.
On Thursday, the reports said that the Kafkametler had struck a mine approximately 11 miles north of Sulina in Romania. The 3,100 dwt vessel registered in Turkey and operated by Kafkametler Maritime is 31 years old and reported inbound with an unidentified cargo. The Turkish authorities reported it was sailing from Batumi to Izmail, but due to congestion had slowed before entering the Sulina Canal.
The Turkish authorities are contending that an explosion occurred 15 to 20 meters behind the vessel. They are not identifying the cause of the explosion but other reports are suggesting it was an old bottom mine but that it was at some distance from the vessel when the explosion occurred.
Ukraine's spokesperson for the Naval Forces, Dmytro Pletenchuk also commented on a local radio report. He confirmed as had been reported by security consultancy Ambrey that the vessel had briefly anchored. He said that they had conducted an inspection and found no damage. This differed from previous reports that said there was some damage to the vessel's ballast tank. Pletenchuk called the reports "false."
The ship's captain and the shipping company later also asserted that the vessel was not struck by a mine. They said after confirming that there was no damage the Kafkametler had proceeded to Izmail. The Turkish ministry reports the vessel's cargo was transferred to Ukraine as planned.
The incident comes at a sensitive time as Pletenchuk reported at the beginning of the week as many as 12 more merchant ships were preparing to sail for Ukraine. UK officials warned however that they believed Russia was attempting to use sea mines to target civilian shipping on the approaches to Ukrainian ports.