Romania Investigating if Cargo Ship Anchored Offshore was Damaged by Mine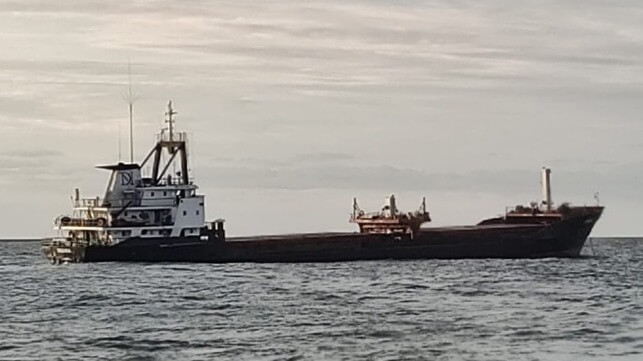 A small cargo ship anchored off the northern Romanian coast requested an evacuation from the local authorities this morning after reporting an explosion that was causing the vessel to take on water. Media speculation is focusing on a mine drifting in the Black Sea and after initially saying a mine was likely Romanian government officials are saying it is still under investigation.
During a press conference this afternoon at the Ministry of Transport, Romanian Prime Minister Marcel Ciolacu initially said that the hypothesis of a mine seemed closer to the truth but then backtracked saying "At this moment, what is the actual cause is being analyzed."
Romania's Minister of Defense added that two possible theories were being considered and that they have mobilized a team of specialized divers to investigate. He said they would establish whether it was a mine or an explosion in the engine room of the ship. Other reports said Romanian had also dispatched a minesweeper and was believed to be combing the area near the anchorage.
The Seama, a 4,251 dwt cargo ship had departed Bartin, Turkey, transporting a load of cement. It anchored approximately 10 nautical miles offshore from the northern Romania port of Sulina. It was awaiting clearance to enter the Bistroe Canal.
At around 0650 this morning, September 20, the Romanian SAR agency Agentia Romaanaa de Salvare a Viettii Omenessti pe Mare (ASRVOM) reports it received a request to assist with an evacuation from the ship. The ship which is 42 years old and registered in Togo, is 295 feet in length and was sitting low at the stern.
ASRVOM reports there were 12 crewmembers aboard and they were evacuated by 0730 and brought to shore by 0825. They were handed over for medical examinations. One crewmember, a Syrian citizen, reportedly suffered injuries to his right hand and slight abdominal pain. Initially, the other crewmembers were released and the Syrian man was released an hour or two later.
????Bu sabah #Karadeniz k?y?s?ndaki #Sulina Liman? yak?nlar?nda patlama meydana gelen ????????Togo band?ral? gemideki 12 mürettebat, ????????Romanya Sahil Güvenlik Ekipleri (ARSVOM) taraf?ndan güvenli ?ekilde kurtar?ld?.

????#Seama isimli çimento ta??d??? belirtilen gemi, çekici taraf?ndan… pic.twitter.com/J1VHM2LPSE

— Romanya Haber (@romanya_haber) September 20, 2023
The agency reports that they were requested to return to the Seama which was still anchored offshore and arrived back at the vessel at 1130. The plan was to complete the investigation and then tow the ship to port. The vessel was in deep water so it was not interfering with port traffic but they said it was in no immediate danger of sinking.
The Prime Minister said he had been informed of the incident shortly after 0600 and congratulated the forces for their quick response. He cautioned to wait for the Ministry of Defense to report on their findings.
Romania and Bulgaria have both previously found mines and detonated them without incident. A month ago, a mine exploded hitting the seawall in a Romania resort area and they have also found debris from the drone attacks on Ukraine's neighboring Danube ports. Concern was again raised over the weekend when Bulgaria reported that a drone armed with an explosive device washed up at one of its resort towns on the Black Sea.