Tanker Completes Voyage from Primorsk to Rotterdam on LNG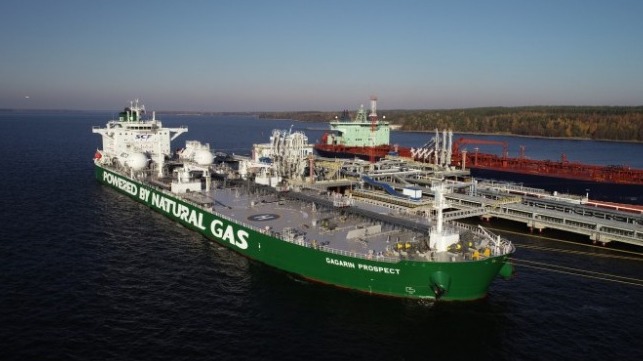 Sovcomflot's ice class 1A crude oil tanker Gagarin Prospect, operating on LNG fuel, successfully completed her voyage across the Baltic and North Seas from Primorsk to Rotterdam on October 22 where she safely delivered a cargo of 104,815 tons of crude oil.
The voyage was her first export delivery of Russian crude oil under a long-term time-charter contract between Sovcomflot and Shell. On October 2, the inaugural LNG bunkering of Gagarin Prospect took place at the Port of Rotterdam using the specialized LNG bunker vessel Cardissa, and on October 15, the vessel loaded its first export cargo of Russian crude oil at the Port of Primorsk.
Gagarin Prospect is the world's first Aframax crude oil tanker designed to operate on LNG as the primary fuel. She is the lead ship of a new generation of environmentally friendly tankers, and Sovcomflot says this is particularly important for ships in high-traffic areas such as the Baltic and North Seas where the tankers will primarily operate.
The second tanker in this series, Lomonosov Prospect, was delivered to Sovcomflot in October 2018. Sovcomflot expects to have six such LNG-fueled Aframax tankers in operation by the beginning of the second quarter of 2019.
Gagarin Prospect was delivered from Hyundai Heavy Industries in July 2018. In September 2018, the company placed with Zvezda Shipbuilding Complex orders for a series of two similar LNG-fueled Aframax tankers, both of which will then be time-chartered to Rosneft for 20 years each.
Sovcomflot is gradually switching its conventional tanker fleet from traditional heavy fuel oil to LNG to comply with tightening sulfur and nitrogen oxide emissions regulations, including the IMO's global 0.5 percent sulfur cap which takes effect in 2020.