Taiwanese Shipbuilding Execs Charged with Loan Fraud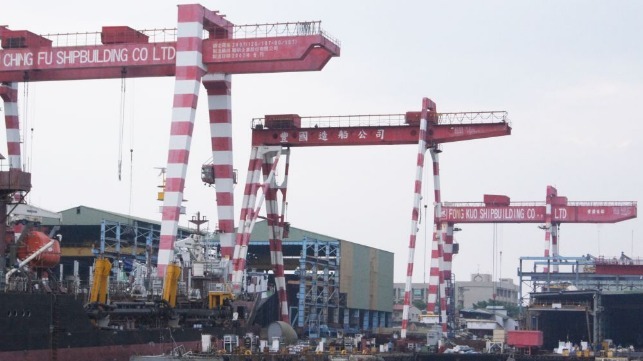 On Tuesday, the Kaohsiung District Prosecutor's Office charged Ching Fu Shipbuilding chairman Chen Ching-nan, his son, his wife and two other executives for allegedly falsifying documents to secure hundreds of millions of dollars in loans.
The charges stem from a whistleblower report last August that launched a broader investigation into Ching Fu Shipbuilding. The company held an $11 billion contract to build six minesweepers for Taiwan's navy, and anonymous tips suggested that the firm was falsifying its progress reports.
These complaints led to a raid on the firm's offices, and authorities found indications that the company's top executives had fraudulently obtained as much as $1.1 billion in loans. According to the prosecution, Ching Fu Shipbuilding worked with a foreign firm to set up three shell companies overseas. Chen Ching-nan and his accomplices then allegedly used forged documents from these shell companies to seek loans from multiple Taiwanese banks. Prosecutors suggested that Ching Fu Shipbuilding's leaders resorted to illicit means to obtain funding because their company lacked the capital to perform on its contract for the minesweepers.
The prosecution is seeking a 30-year sentence for Chen Ching-nan, with lesser penalties for his accomplices. The investigators did not find any evidence of illegal activity at the banks, which lost an estimated $440 million due to the fraudulent scheme.