Taiwanese Exec Implicated in Sanctions-Busting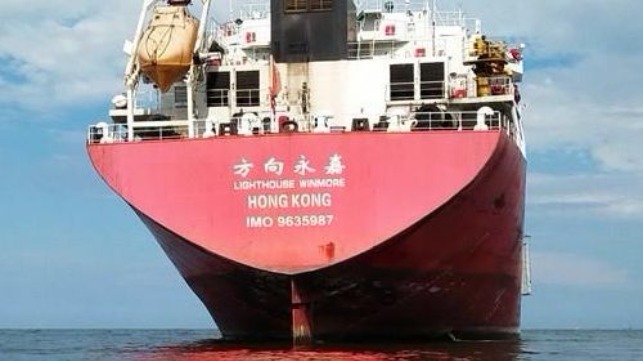 Prosecutors in Taiwan are questioning a fishing executive for allegedly arranging a high-seas oil transfer from a chartered tanker to a North Korean vessel in violation of U.N. sanctions.
The merchant tanker, the Chinese-owned Lighthouse Winmore, was detained in South Korea in November. According to South Korean officials, the Winmore – operating under charter to Taiwan-based Billions Bunker Group – loaded 14,000 tons of petroleum product at the port of Yeosu on October 11. On October 15, she got under way for Taiwan. Korean officials assert that she made four high-seas transfers to other vessels during her voyage, including a 600-tonne transfer to a small North Korean product tanker on October 19.
Prosecutors in Kaohsiung allege that a Taiwanese fishing company executive, Chen Shih-hsien, "had knowingly used ships to sell petroleum products on the high seas and had falsely written Hong Kong as the destination on the export declaration." The U.N. Security Council has forbidden high-seas transfers to North Korean vessels since September, part of the council's steadily-increasing economic sanctions on Pyongyang over its nuclear weapons program. Billions Bunker Group - the firm named by South Korean investigators as the charterer of the Lighthouse Winmore - shares an address with Chen's two fishing companies in Kaohsiung, according to local reports.
Chen has been released on $50,000 bail and faces further questioning. He denies any involvement in illegal activity, and he asserts that he helped a Chinese broker to arrange the shipment but was unaware of the ultimate destination, Taiwanese media report.
Like the charterer, the ship manager has denied any wrongdoing. Zeng Haibo, deputy general manager of the Winmore's Chinese ship management firm, told the South China Morning Post that he had no knowledge of whether the tanker had violated United Nations sanctions on North Korean shipping. He emphasized that the Winmore was operating under a charter to a Taiwanese company.