Swedish Telecom Cable Was Damaged at the Same Time as Baltic Pipeline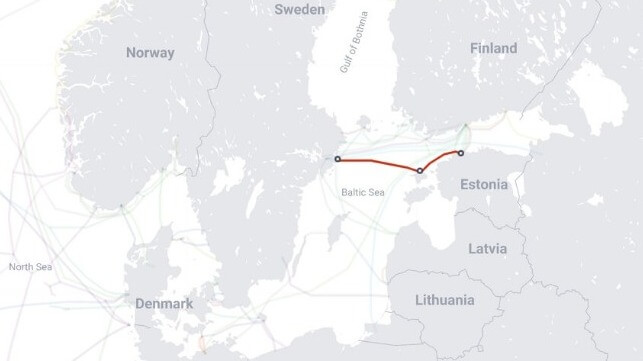 The government of Sweden reported Tuesday that a subsea telecom cable connection to Estonia has been damaged, and that the incident occurred at about the same time as the rupture of the Finnish-Estonian Balticconnector gas pipeline.
According to the Estonian ministry of economy, the damage site was located about 30 miles off Hiiumaa, an island in the Baltic off the west coast of Estonia. The cable is Swedish-owned, and the operator brought it back into service within a matter of days. The description matches the Sweden-Estonia EE-S1 cable, which terminates on Hiiumaa.
The break was only partial, Sweden's Civil Defense Minister Carl-Oskar Bohlin said Tuesday, and an investigation into the cause is under way.
"We cannot assess what caused the damage. But what we can say is that this damage has happened at a similar time and in physical proximity . . . to the damage that was previously reported to a gas pipeline between Estonia and Finland, and a telecommunications cable between Estonia and Finland," he said.
The Balticconnector pipeline and an adjacent telecom cable were damaged in the early hours of October 8. The government of Finland said last week that it has cause to believe that the rupture was caused by "external" forces. While the culprit has not been identified, Finnish authorities believe that it was an actor with a high degree of technical sophistication. "A sabotage of this caliber requires a certain amount of know-how and special equipment. It's probably not ordinary people who were behind this," said Timo Kilpeläinen, head of the Finnish NBI's Investigation Department.
According to the BBC, Finnish sources have quietly indicated that they believe that the pipeline rupture was an act of "retribution" carried out by Russia. When Finland joined the NATO military alliance in April, ending decades of neutrality, Russia promised to take "retaliatory steps," including "military-technical" measures.
Top image: Sweden-Estonia EE-S 1 cable and other subsea telecom cables in the Baltic (Telegeography / CC BY SA 4.0)