Swedish Ports Will Blockade Tesla Vehicles in Support of Labor Strike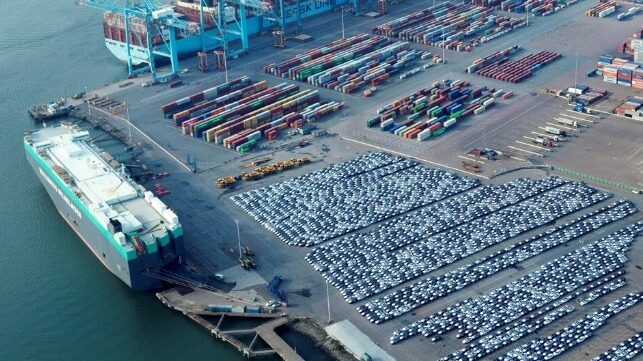 The Swedish Transport Workers Union (Svenska Transportarbetareförbundet) is threatening to stop handling Tesla's electrical vehicles arriving at the country's four major ports. The union has filed a notice of support for Sweden's Industrifacket Metall a trade union that went on strike last week against Tesla.
IF Metall is one of the largest trade unions in Sweden with reports of over 240,000 members working in a broad range of industries. Covering everything from building materials to mining and the auto industry and auto repair shops, the union is striking for a collective bargaining agreement with Tesla. As many as 90 percent of Sweden's workers are covered by collective bargaining agreements.
The current strike is over the ability of the union to negotiate for members on issues from wages to pensions and insurance. IF Metall's contract secretary Veli-Pekka Säikkälä said a strike is an unusual step but the union says Tesla Sweden has made clear its position that it is not relevant to sign a collective agreement. The walkout began on October 27 and IF Metall has served notice that it plans to expand the strike starting today, November 3, to cover Tesla's authorized repair shops.
As part of the effort, IF Metall also put out a call for support efforts by other unions and now the Transport Workers served notice that they will begin to honor strike as of November 7. They announced that they will no longer handle shipments of Tesla cars and parts arriving at the ports of Malmö (Copenhagen Malmö Port AB), Södertälje (Södertälje Hamn AB), Gothenburg (Logent Ports & Terminal AB Gothenburg), and Trelleborg (Trelleborg Hamn AB).
The Transport Workers are saying they will stand with the union and not handle Tesla until it signs a collective agreement with IF Metall. Talks have resumed with Tesla but so far are not showing any signs of an agreement.
The Tesla Model Y is reported by Clean Technica to be the overall bestseller in Sweden. In September, they calculated from registrations that 3,050 Model Y cars were sold nearing the record of 3,202 cars in March 2023. The Tesla Model Y is reported to have sold nearly three times as many cars in Sweden in September as its nearest rival the Volkswagen ID.4. Year-to-date 13,457 Model Y have been registered with Clean Technica highlighting, "That means almost one in every 15 cars sold this year is a Tesla Model Y!"
Based on registration data, electric vehicles account for two-thirds of all cars now sold in Sweden up from just over 55 percent a year ago. In September, fully electric vehicles accounted for 40 percent of the new registrations while plug-in hybrids were a further 20 percent, equal to the percent of gasoline-powered cars registered in the month.
Tommy Wreeth, Transport's union chairman said "In Sweden and in the Swedish labor market, we have collective agreements. Transport will always stand up for that. Tesla employees must of course also be covered by safe and decent conditions."
Transport promises a blockade against all loading and unloading of Tesla cars in the four ports until the company reaches an agreement with its workers.