Subsea Production Ready to Replace Topsides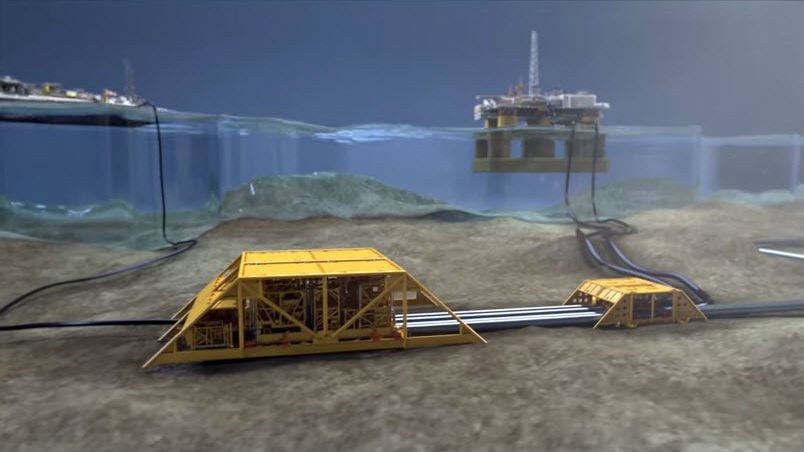 Over the past 15 years, subsea technology has moved from subsea wells, manifolds, flowlines and templates, to include subsea boosting, separation, and now, with Statoil's Åsgard project, compression.
New technologies open possibilities for moving ever-larger sections of topside equipment to the seafloor, and DNV GL launched a research paper on Thursday examining the viability of subsea production replacing topside production platforms such as FPSOs.
Most of the moves towards subsea processing so far have been designed to boost production from aging brownfield projects, but the report highlights the potential for greenfield solutions as well.
It addresses current limitations and highlights opportunities, however, instead of making a direct comparison between the two alternatives, the paper adopts a stepwise approach, moving the various main parts of the processing from the topside to the seabed in nine steps until nothing remains on the surface.
Principal researcher and lead author of the paper, Tore Kuhnle, said, "Debates about the viability of all subsea solutions can quickly become overwhelmed with complexity due to the interrelations and dependencies between the processing, power, control and safety subsystems, as well as the effects on the reservoir performance and commercial aspects. With our stepwise approach, one can evaluate the business case of subsea solutions progressively and with clarity."
The industry has moved from breaking boundaries to cost cutting in recent years, says Kuhnle. "Even though brownfields will continue to drive subsea processing development, we have also identified possibilities for greenfield applications. We see that the technology has matured considerably for limited-depth and limited-range applications.
"With our short-term focus, we see the completely submerged alternative more as a mature-area, midsize oilfield solution, rather than an extreme deepwater, long-range problem-solver. I'd say these are good findings for the industry to consider as we need efficient production replacement projects in the current market, and both these alternatives fit very nicely."
The full report is available here.
A video presentation is available here.