Stolt Tankers Applies New Ultra-Slick Prop Coating to its Full Fleet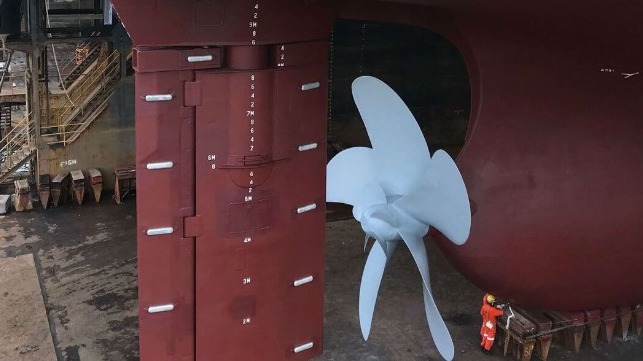 Stolt Tankers has decided to adopt a graphene-based propeller coating across its fleet, citing fuel efficiency improvements on test vessels.
In April 2022, Stolt Tankers completed a trial of the Graphite Innovations & Technology (GIT) graphene propeller coating on the tanker Stolt Acer. Stold recorded a "significant reduction" in fuel consumption and decided to apply the coating to five additional ships.
Under a two-year agreement, GIT will now apply its coating to the propellers of 25 more vessels in the Stolt Tankers fleet. The biocide-free coating reduces fouling on the propeller and reduces friction with a super-slick surface, cutting drag and boosting fuel efficiency, according to GIT. It also reduces the frequency of propeller polishing intervals needed to maintain cleanliness. According to the manufacturer, it has a side benefit in reducing underwater radiated noise, helping to mitigate the effects of shipping on marine life.
"We have several sustainability ambitions and see GIT's propeller coatings as a simple way to maximise fuel savings and minimise emissions. The shipping industry needs innovators like GIT to help drive change and make a significant positive impact on our oceans," said Stolt Tankers' energy and conservation manager, Jose Gonzalez Celis.
GIT is also testing its technology in a full-surface bottom coating on the anchor handling tug K.J. Gardner, operated by Kotug Canada. The application is an attempt to reduce radiated noise from the hull, a key consideration for orca conservation in the Salish Sea, where K.J. Gardner operates. The tug is the first of three that Kotug Canada plans to test out with the coating. As a side benefit, the graphene coating is expected to significantly improve the tugs' fuel efficiency.