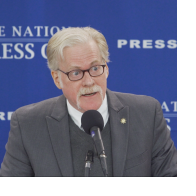 On March 21, at the National Press Club in Washington, a panel with expertise in maritime law, the merchant marine, the military and foreign policy predicted that tensions over Chinese claims in the South China Sea will soon escalate.
The panelists expect that the Philippines will win their case against China at the Permanent Court of Arbitration at The Hague over claims to Mischief Reef, a disputed feature in the Spratly Islands, with a ruling expected sometime between April and June. China is unlikely to accept the decision, and may choose to double down on island construction and other assertive actions in the South China Sea, including steps that could limit freedom of navigation on critical sea lanes.
In remarks at the panel, Don Marcus, the president of the International Organization of Masters, Mates & Pilots, referred to research by Dr. Patrick Bratton of Hawaii Pacific University and Captain Carl Schuster; former Director of Operations at the U.S. Joint Intelligence Center Pacific. In a paper entitled "Sea Strangulation," Bratton and Schuster predict that China may put pressure on commercial trade as a way of increasing pressure on the United States and its allies in the region.
Marcus also echoed Bratton and Schuster's warnings about the present size of the American merchant fleet. Chinese-operated vessels carry about 90 percent of China's trade, while U.S.-flagged ships carry only about two percent of American trade, Marcus said, adding that a nation's merchant marine is a vital contributor to its sea power.
For more on the panel, see http://www.press.org/news-multimedia/news/expert-panel-expects-rising-tension-south-china-sea.