South Carolina Debates Offshore Drilling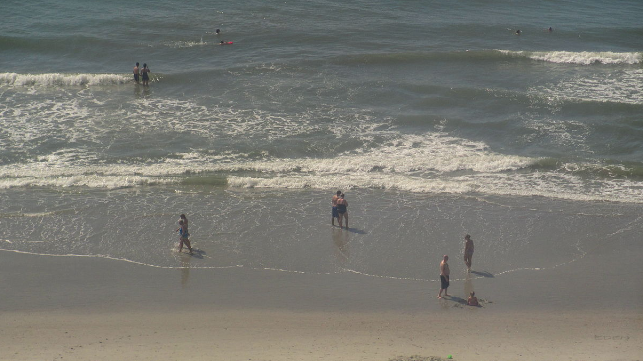 More than 200 protesters from across South Carolina shouted their opposition to offshore drilling at the Statehouse on Tuesday. The rally preceded a federal Bureau of Ocean Energy Management (BOEM) meeting to inform the public on plans to offer leases off the coast.
The Trump administration is pushing to open nearly all the coastal areas in the U.S. The BOEM meeting is part of a 60-day public comment period on the Trump administration's five-year program (2019-2024) for oil and gas development. The draft plan lists 47 potential lease sales off the U.S. Atlantic and Pacific coasts, which would be the largest number ever proposed.
Local politician Mark Sanford, R-SC, said in a statement at the event: "Those local voices that joined me today understand the unique look and feel of South Carolina's coastline. They know the importance of tourism as an economic driver for our state."
Meanwhile, local media report that Lt. Gov. Kevin Bryant, who is running for governor, said he supports exploring for fossil fuels: "We've got to find out what's out there... Do the math. Find the risks, weigh it against the benefits, then make an informed decision."
His views were echoed by South Carolina Petroleum Council Executive Director Mark Harmon: "We can't effectively analyze America's energy potential without exploring off the shore of South Carolina to see what resources exist. In fact, the Atlantic Outer Continental Shelf hasn't been analyzed for energy resources in over three decades – which means that our current data is outdated. Over the last few years, industry has developed advanced technologies that allow us to safely and accurately determine how much natural gas and oil actually exists off of South Carolina, which will allow us to determine next steps for our energy future."
He says that offshore energy exploration and development could lead to significant economic growth, the creation of high-paying jobs and millions of dollars flowing into state coffers to fix schools, infrastructure and build a brighter future for communities all across South Carolina.
"Offshore energy exploration and production is necessary for U.S. energy and national security and helps make America less energy dependent on unfriendly nations for the foreseeable future."
The BOEM plans have seen opposition elsewhere around the nation as concerns are raised about the potential for a catastrophic oil spill and that burning more fossil fuels would accelerate global warming.
At least 15 governors of coastal states have publicly opposed the administration's plans for offshore drilling. For example in January, Governor Rick Scott secured a commitment from Department of Interior Secretary Ryan Zinke to remove Florida from future consideration for offshore drilling. Rhode Island's governor is calling for an all-out effort to oppose President Trump's plan for offshore drilling along the Eastern seaboard.
Across the nation, a protest rally was held in California this month. California has long banned new exploration in state waters within three miles of shore, and the White House under Barack Obama added restrictions in federal waters. The Trump administration's new five-year plan calls for leases to once again be offered.