Smuggler Who Rammed USCG Vessel Sentenced to Five Years in Jail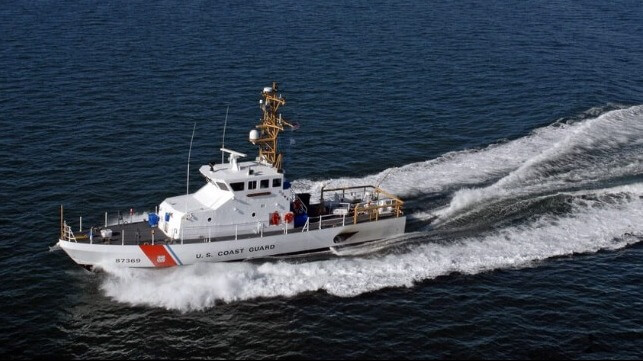 A boat captain who rammed a U.S. Coast Guard vessel was sentenced to five years for his efforts to escape law enforcement and his role in the maritime smuggling of individuals across the Mexican maritime boundary. At the sentencing hearing in San Diego on July 12, U.S. District Judge Jinsook Ohta described the actions of the boat's operator as "extremely reckless and extremely troubling" and emphasized the danger to human life.
Jesus Jeovanny Alcaraz-Valdez was operating what the U.S. Coast Guard described as "a panga-style vessel," traveling they estimated at between 30 to 40 knots. During the early morning hours of December 17, 2022, Alcaraz was observed shuttling an estimated 12 undocumented migrants from Mexico across the maritime boundary line to the area around Coronado, California. After making his drop-off he attempted to outrun the U.S. Coast Guard to return to Mexican waters.
A U.S. Coast Guard vessel patrolling in the area attempted to compel Alcaraz, the sole operator of the lights-out vessel, to stop. They reported that he repeatedly ignored the orders of the Coast Guard. Ultimately, Alcaraz increased speed and steered directly toward the Coast Guard vessel, ramming them twice with his vessel's bow.
The first ramming hit the middle of the unidentified Coast Guard vessel, while the second caused the forward starboard window of the Coast Guard vessel to shatter and nearly hit a Coast Guard officer positioned in the co-pilot's seat. The four law enforcement officers on board the USCG vessel sustained minor neck and back injuries as a result of the ramming and were treated by medical personnel on shore.
After the ramming, the Coast Guard reports its crew fired two shots into the panga's outboard engine. They were successful in disabling the vessel and taking Alcaraz into custody.
"This defendant not only endangered the individuals he transported by operating an overloaded panga in the dark with no navigation lights, but he double downed on his bad decision-making when he intentionally harmed members of our Coast Guard," said U.S. Attorney Randy Grossman.
The chase happened after was seen offloading the illegal individuals in the vicinity of the Hotel Del Coronado. Eight individuals were apprehended by U.S. Border Patrol agents while four persons were believed to have evaded capture. The individuals that were captured told law enforcement that before reaching shore, Alcaraz instructed them to remove lifejackets and enter waist-deep surf, even though some could not swim. The individuals from Mexico and Guatemala were paying between $13,000 and $24,000 to be smuggled into the United States.
Alcaraz pleaded guilty to 12 counts in March 2023. He was sentenced in federal court to 60 months in prison.