Singapore's Transport Minister Takes Leave Due to Corruption Investigation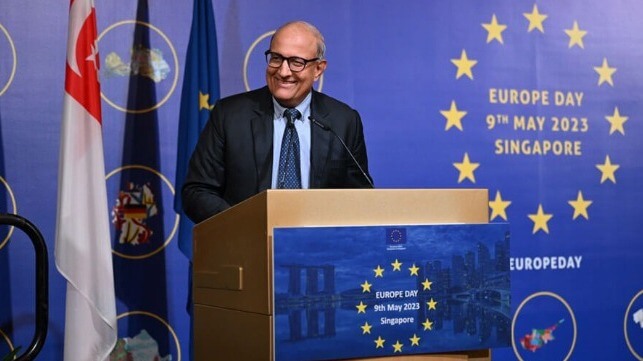 Singapore's prominent Minister for Transport, S. Iswaran, who has responsibilities spanning land, air, and sea transport, as well as trade relations, was instructed to take a leave of absence as the country's investigators began a formal corruption inquiry for which the minister will be interviewed. No specific details were provided on the scope of the investigation in a country that prides itself on being free of government scandals and corruption.
Iswaran, who studied economics at the University of Adelaide and received a master's from Harvard University, has held his current positions in the government since 2021. He first became a member of parliament in 1997 and joined the government's cabinet in 2006. He has also acted as a managing director of the state-owned investment company Temasek Holdings.
Since taking the role for transportation, Iswaran has been a visible leader in the government working to maintain and expand Singapore's role as a hub in Asia. After the pandemic, he has sought to expand Singapore as an air hub, as well as expand its position in the maritime industry. He joined the city-state's prime minister in officially opening the massive new container terminal in 2022 and has been involved in the efforts at creating Singapore's role in maritime decarbonization with efforts to maintain Singapore as the world's leading bunker hub.
Prime Minister Lee Hsien Loong wrote a personal Tweet on July 12 confirming that he had instructed Iswaran to take a leave of absence while the investigation is ongoing. Lee said he had been briefed by the Corrupt Practices Investigation Bureau and concurred to open a formal investigation.
The bureau in a brief statement confirmed that it was opening an investigation after discovering what it termed "a case" and citing a strict zero-tolerance approach towards corruption. They declined to offer any details only saying that Iswaran and others would be interviewed.
Singapore's Deputy Prime Minister took to social media promising that the government would be "upfront and transparent," in the investigation. "We will not sweep anything under the carpet, even if they are potentially embarrassing or damaging," he wrote.
It is the second investigation launched by the CPIB in recent months looking at government ministers, but reports are saying this is the most significant investigation in nearly 40 years. In May 2023, Lee ordered an investigation into the Law and Home Affairs Minister K. Shanmugam and Foreign Minister Vivian Balakrishnan over their handling of the government's rental homes. Observers are pointing out that in that case, neither of the ministers was asked to go on leave, and they were cleared of any wrongdoing in June.
No timeline was announced for the current investigation. Lee announced that In Minister Iswaran's absence, Senior Minister of State Chee Hong Tat will be Acting Minister for Transport.
News of the investigation comes as the People's Action Party which has dominated Singapore's political scene since independence in 1965 is facing increasing competition. Singapore is scheduled for general elections in 2025.