Singapore Police Bust Refinery Robbers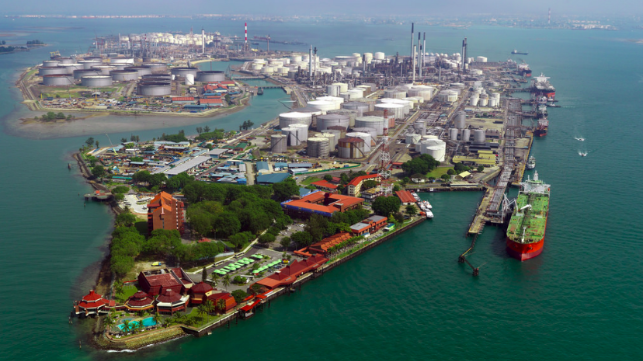 The Singapore Police Force has arrested 17 people on suspicion of involvement in a maritime fuel theft at Shell's Pulau Bukom refinery, the oil major's largest wholly-owned refining facility in the world. 11 suspects have since been charged.
Shell reported suspicious activity at Bukom to the police in August, and the authorities launched a wide-running investigation. On January 7, the Singapore police and coast guard raided locations around the island nation and seized $2.2 million in cash, along with the bank accounts belonging to the suspects and one 12,000 gt product tanker. Charging documents indicate that the raids coincided with an illicit loading of the tanker, the Prime South, at Shell's Bukom Island docks.
Eight of the individuals charged are Shell employees, and two are Vietnamese nationals accused of taking delivery of the stolen product aboard the tanker. The charges allege that they participated in two sets of unauthorized gasoil transfers of about 2,000 tonnes each, which would be worth a combined value of about $2 million. The suspects face up to five years in prison if convicted.
Shell said that it expects that the thefts and the investigation will create a "short delay in the supply operations at Bukom," but added that "at this point we expect to continue to meet our contractual supply obligations to customers."
Bukom is a giant 500,000 bpd refinery on a pair of islands southwest of Singapore, and it has a combination of crude oil refining and petrochemical facilities on the same site. Almost all of its production is exported to the greater Asia Pacific region and to the global market.
Fuel thefts not uncommon
Maritime petroleum theft is not uncommon, but it typically occurs at sea or at an anchorage, and usually in smaller volumes. In years past, maritime pirates in Southeast Asia targeted product tankers in order to steal their fuel, though increasingly effective law enforcement has greatly reduced the rate of these attacks. In addition, crewmembers may also decide to steal fuel from their own vessel by offloading the contents of their bunker tanks onto another ship, typically charging much less than the market price for the illicit fuel.