Shutdown at Spanish Ports Enters Second Day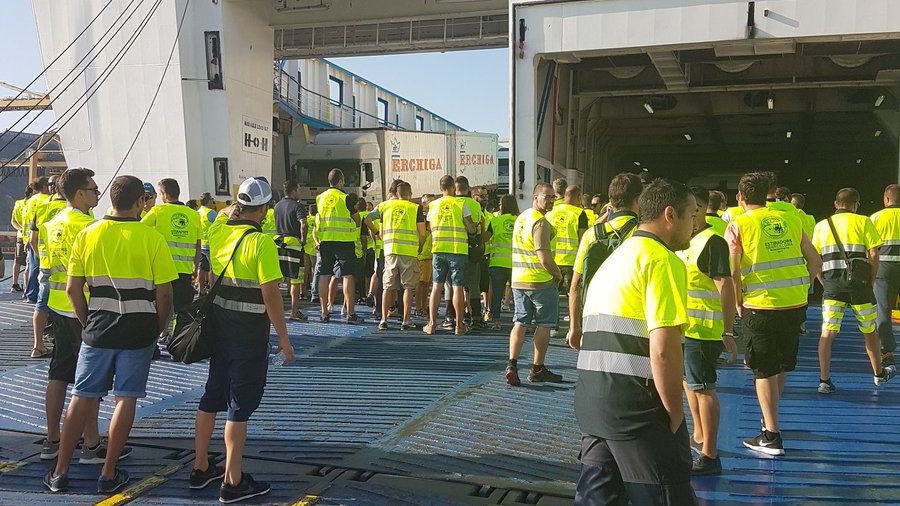 Spanish dockers' unions announced Thursday that they have scheduled a further set of four 48-hour strikes after negotiations with port employers fell through earlier this week. The unions are calling for a guarantee against layoffs, a demand that is intended to offset a new port reform law that will allow ports to use non-union longshore labor.
The four new actions are scheduled just one day apart: they will take place on June 26-28, June 29-July 1, July 3-5 and July 6-8. They are partial strikes, and will only be in effect every other hour during each two-day period.
If bargaining talks scheduled for Friday do not produce results, similar 24-hour partial strikes will take place on June 19, 21 and 23. An earlier round of these stoppages cost the Spanish economy an estimated $13 million per day and prompted Maersk Lines to permanently divert 150,000 container moves per year from Algeciras to Tangier.

The first full 48-hour stoppage of the dispute began Wednesday morning, and it has brought Spain's ports to a near-complete halt. The government estimates that 98.5 percent of affected workers are participating, and Puertos del Estado reports that many port employers have stopped asking for workers from hiring halls in the knowledge that none will be provided. At least 31 vessels have already been diverted due to the strike, including 19 from Algeciras, seven from Valencia and five from Barcelona. Many other vessels have anchored up to await the end of the action.
Passenger vessels have not been significantly affected by the disruption, but protesting dockers interfered briefly with ro/ro ferry operations in Barcelona on Thursday, blocking trucks at three vessels' loading ramps and creating delays of up to 45 minutes (photo above).
Spain's Ministry of Public Works called on the unions to "end the bleeding of [ship diversions], thus avoiding irreparable damage to the country's economy." However, Antolín Goya, leader of dockers union CETM, put the blame for economic losses squarely on the government and on the port employers. "The losses, whatever the figures, are the responsibility of the government, which has imposed a law without the consensus of the sector, and of the companies, which have failed to comply with the commitment [to] guarantee employment of [their] workers," he told El Mundo on Thursday.