Shipbuilding Giant CSSC Appoints New Leadership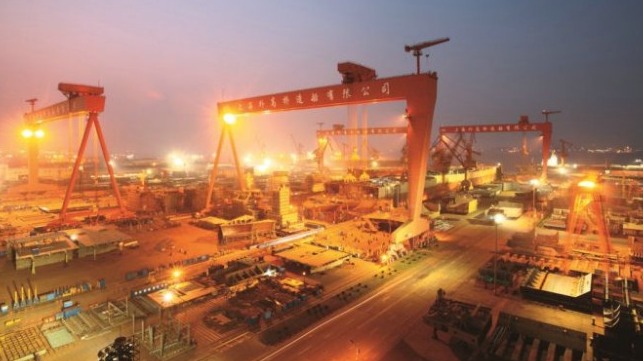 China State Shipbuilding Corporation (CSSC), one of China's two giant state-owned shipbuilders, has appointed a new leader. The new chairman and party secretary, Lei Fanpei, is an engineer and an alternate member of the CPC's Central Committee. He comes to CSSC from China Aerospace Science and Technology Corporation (CASC), where he was chairman and president. Markets reacted positively to Lei's appointment, and CSSC's stock rose six percent on the Shanghai exchange Tuesday.
CSSC faces financial difficulties due to the shipbuilding downturn, and early this year, it warned investors that it is possible it will post a second annual loss in a row for 2017. CSSC announced in January that it was working with major state-owned investors to recapitalize four of its yards.
Lei's background is in aerospace engineering, and the organization he previously ran, CASC, is China's state-owned space contractor. The company develops China's launch vehicles, spacecraft, satellite systems and ballistic missiles.
Shanghai Daily reports that Lei's arrival may be another indicator that CSSC could re-merge with state-owned shipbuilder China Shipbuilding Industry Corporation (CSIC), which was spun off in 1999. Rumors that the two giant shipbuilders might reunite have persisted for years, but speculation increased last November when Ren Yuanlin, executive chairman of privately-held Yangzijiang Shipbuilding, told media that a merger would happen within a year's time.
Lei's predecessor, Dong Qiang, took up the post in 2015 as the shipbuilding industry entered a period of decline. Among other notable acts, Dong signed an agreement with Fincantieri and Carnival Corporation for China's first ever domestically-built cruise ship at the Shanghai Waigaoquiao shipyard.