Shipbuilder CSSC Builds Base for "National Defense" Sonar Testing
Location on Hainan Island is well-suited to South China Sea deployments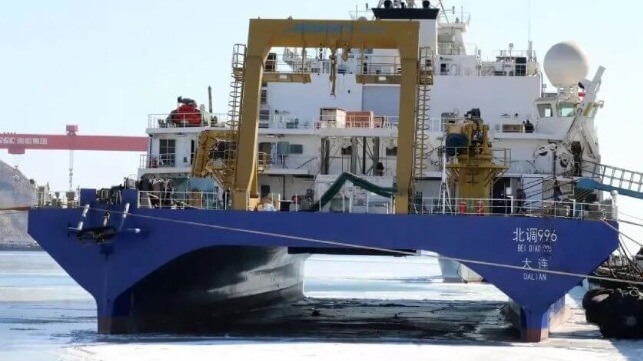 China State Shipbuilding Corporation (CSSC) is known in the West as the world's largest commercial shipbuilder, but it is also the world's largest naval shipbuilder by a wide margin, providing new destroyers and corvettes for the swiftly-growing People's Liberation Army - Navy (PLAN). Among its many other government vessel contracts, it has built a small waterplane hull area (SWATH) acoustic sensor research catamaran for the Chinese government, and it is now set to get its own base in the South China Sea to support the vessel's operations.
CSSC's recently-built Bei Diao 996 is a civilian research vessel, and it wears plain white and blue livery, but its primary use will be for testing underwater acoustic sensors and electronics arrays. SWATH designs are less affected by roll and heave than conventional vessels, and are considered well suited for specific applications - in particular, the deployment of towed sonar gear for tracking submarines. The Japan Maritime Self-Defence Force (JMSDF) operates three similar ships for this purpose, and the U.S. Navy uses a SWATH design for its Impeccable-class (T-AGOS 23) ocean surveillance ship. Austal USA recently secured a contract to design a T-AGOS(X) ocean surveillance ship with a similar SWATH layout, and could build up to seven if all options are exercised.
China is aware ot the design and function of USS Impeccable and similar SWATH vessels. In 2009, the Impeccable had one of the U.S. Navy's earliest encounters with China's maritime militia when a Chinese trawler attempted to snag her towed sonar array with a grappling hook.
The Bei Diao 996 is China's largest "test ship for deep-sea equipment," according to China Classification Society. She is homeported in Nanshan, near Hong Kong, but soon she will be based even further to the south. CSSC is building a port specifically to support her operations in Sanya, the southernmost port on China's Hainan Island. The new CSSC test facility will support the "construction of an advanced national defense industry system," according to state news outlet Global Times.
"In terms of national defense, the base could enable more complex and challenging tests in the deep sea," Chinese defense commentator Song Zhongping told Global Times.