Shell Puts Electric Ferry in Service and Expands Work with Singapore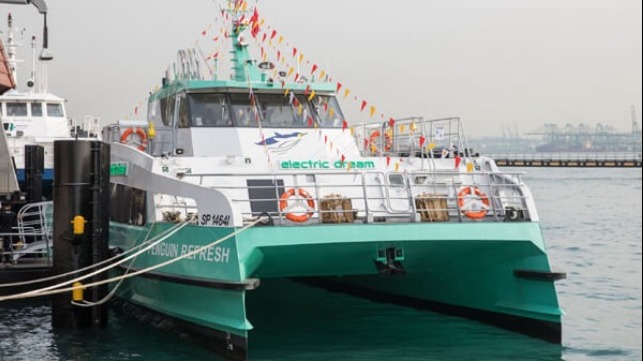 Shell introduced its first electric ferry which is also the first electric vessel to operate in Singapore. The ceremony commissioning the new vessel was also used to announce a broad new partnership working with Singapore's Maritime and Port Authority to advance the adoption of electric harbor craft and low and zero-carbon fuels.
The Penguin Refresh is the first of three fully-electric harbor craft that Shell will put in service by August 2023 providing transport to the Shell Energy and Chemicals Park Singapore located on Bukom Island. The vessels will be traveling between the Shell facility and Singapore and are expected to transport as many as 3,000 passengers daily. The ferries will make an estimated 1.8 million passenger trips annually according to Shell.
The new vessel is the first electric ferry operated by Shell worldwide. Each of the three ships has seating for 200 passengers. Their operations are expected to save nearly 2,000 tons of fuel annually.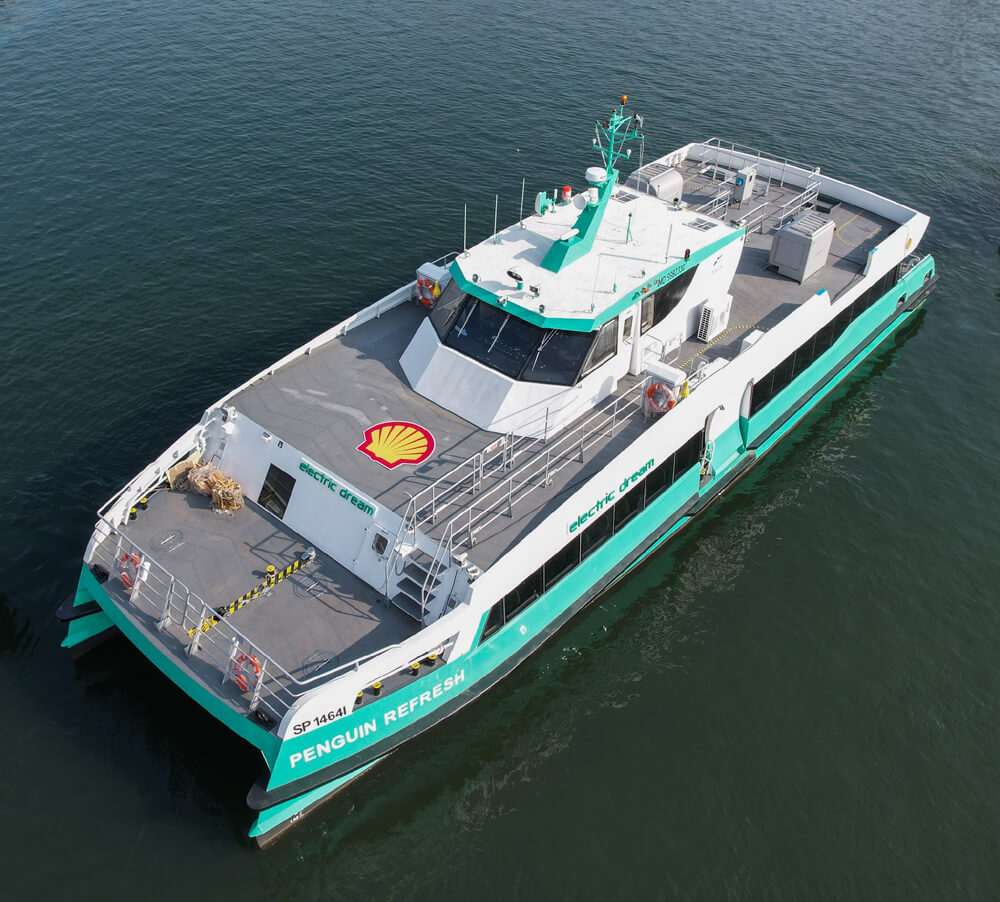 Shell reported in 2021 that Singapore-based Penguin International, a designer, builder, owner, and operator of aluminum high-speed craft, had won the international tender to design, build, and operate the ferries. Penguin was working with project partners Incat Crowther and Razor Blunt Labs for the development of the vessels which they said they planned to power with a lithium-ion battery system with a capacity of 1.2 MWh and run at speeds of over 20 knots. When berthed at Shell Bukom, they said the ferries would be charged via a combination of fast charging during peak hours, and slow charging during off-peak hours and overnight. Penguin's scope of work also included designing, installing, and operating ultra-fast shore chargers on Bukom that would be capable of recharging each ferry in under 10 minutes.
During today's inaugural event, Shell and the MPA signed the five-year agreement to expand their collaboration on decarbonization. Among the steps they agreed to work on is for the charging infrastructure for electric harbor craft. The MPA will work with Shell to make its charging facilities at the facility on Bukom available for other electric harbor craft users. Shell also agreed to explore the feasibility of expanding the shore charging infrastructure on the island to serve as an electrification hub for harbor craft in Singapore.
Both organizations will also work together on the research and development of low-and zero-carbon fuels. This will include the training of crew in the handling, operations, and maintenance of vessels operating on future alternative fuels.