Serving With Distinction
U.S. President Donald Trump has issued his National Maritime Day proclamation saying "merchant mariners actively protect our homeland, serving as our eyes and ears on the seas. They serve with distinction and courage, heading into war zones, and too often sacrificing their own lives for our protection."
Their service has spanned U.S. history: some highlights include:
September 11
When the towers of the World Trade Center collapsed on September 11, 2001, people fled by any means possible. An impromptu response by the U.S. merchant marine led to the safe evacuation of hundreds of thousands of people from lower Manhattan.
The Middle East
During the first Gulf War in 1990-91, merchant ships delivered more than 12 million metric tons of vehicles, helicopters, ammunition, fuel and other supplies and equipment. At one point during the war, more than 230 government-owned and chartered ships were involved in the sealift.
In 2003, 40 merchant ships were used in support of Operation Enduring Freedom and Operation Iraqi Freedom. Their contribution included sealifting supplies into the combat theater. By the beginning of May 2005, merchant marine cumulative support included 85 ship activations that logged almost 12,000 ship operating days, moving almost 25 percent of the equipment needed to support operations in Iraq.
Vietnam War
During the Vietnam War, ships crewed by civilian seamen carried 95 percent of the supplies used by U.S. Armed Forces. Many of these ships sailed into combat zones under fire.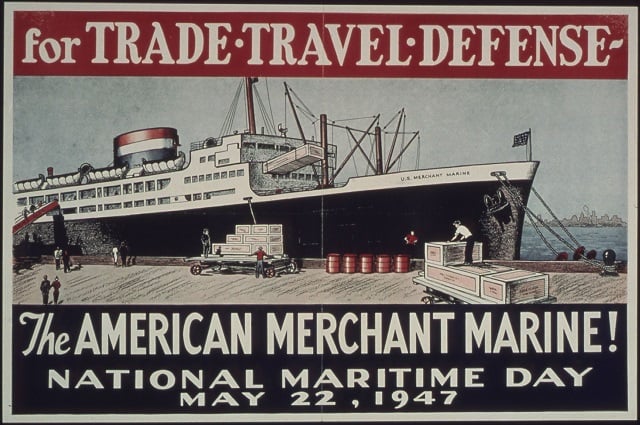 World War II
The merchant marine and American shipyards were crucial to victory in World War II. Merchant ships carried troops and supplies across the Atlantic, the Pacific, through the Indian Ocean and across the Arctic Circle to Murmansk. They carried nearly 270 billion long tons of cargo – the average rate of delivery in 1945 was 17-million pounds of cargo every hour.
They had been the first to go to war; merchant ships were being captured and sunk even before the U.S. officially entered the war. They were the last to return; it was ships sailed by merchant mariners that brought the GIs home.
More than 6,000 American seafarers and more than 700 U.S. merchant ships fell to enemy action. No branch of the Armed Forces, save the Marines, suffered a higher casualty rate. None suffered a higher death rate.
None of them had to go sea. They were all civilians, and they could have had other jobs in the booming wartime economy. Yet they went. Some were in their seventies, some were in their teens.