Seatrade Cruise Global 2018: Excited, Energized and Optimistic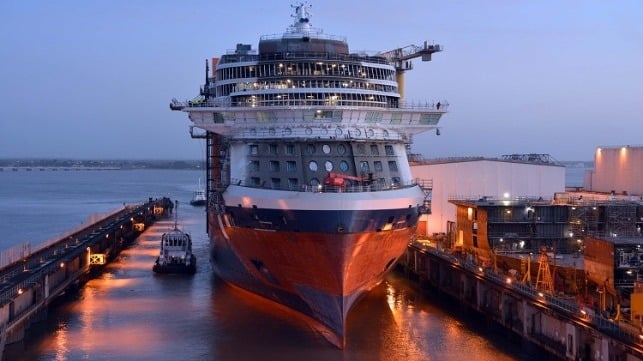 Optimism is high as the cruise industry gathers this week for one of its largest business conferences of the year - Seatrade Cruise Global 2018 in Fort Lauderdale, Florida. In fact, while many segments of the shipping industry continue to struggle, the cruise business and all those associated with the segment are enjoying prosperity and confident about the future.
All sectors of the cruise industry are benefiting from this strength. The Cruise Line International Association (CLIA) is forecasting overall better than five percent growth to a projected 27.2 million people taking cruises in 2018.
"This year is by far the most excited, most energized and most optimistic I have ever been at the start of a New Year," Frank J. Del Rio, President and Chief Executive Officer of Norwegian Cruise Line recently told the investment community. On the company's February conference call, he said, "2018 is indeed shaping up to be another record-breaking year for the company."
Many in the industry share this sentiment as they report strong advance reservations from consumers, increased load factors on their ships in all the major markets and improving pricing and yields. Royal Caribbean Cruises' Chairman and Chief Executive Officer Richard Fain recently told the investment community, "Our indicators denote that we're heading into another record year. We're currently booked ahead of last year in both load factor and rate."
Strong Orders
Spurred on by the strong demand, orders for new cruise ships are at an all-time high. Nearly 100 new cruise ships are currently on order primarily from the shipyards of Fincantieri, Meyer Werft and STX France. The shipyards are operating at capacity with reservations for building slots stretching out into the mid-2020s. Over 11 million gross tons are on order which would represent over 250,000 new berths and potentially as much as a 50 percent increase in the industry's global capacity.
The first of this year's new cruise ships will be introduced in just a matter of weeks and include the world's largest cruise ship, Royal Caribbean International's 228,081 gross ton Symphony of the Seas. The 25th ship in Royal Caribbean's fleet, her total passenger capacity will be over 6,600 people plus another 2,000 in crew. Fain also noted that "2018 will be the first year three of our brands welcome new ships," as Azamara Club Cruises has acquired a third sister ship for its fleet, and Celebrity Cruises launches its first new ship in six years with the 129,500 gross ton Celebrity Edge in November 2018.
Similarly, Norwegian Cruise Lines is preparing for its 26th ship (across its three brands) with the launch of their largest ever ship, the 167,800 gross ton Norwegian Bliss in May 2018. Norwegian also recently announced details of its fourth Breakaway Plus ship, the Norwegian Encore, due in the fall of 2019.
Carnival Corporation is also expressing strong optimism for 2018. President and Chief Executive Officer Arnold Donald said that the company is "well positioned for continued revenue yield improvement in 2018 with both occupancy and price still ahead of the prior year." Carnival will be adding more than 12,000 berths in 2018 with new ships for its Carnival, Seabourn, Holland America and AIDA brands.
MSC Cruises will be introducing at mid-year the 154,000 gross ton MSC Seaview, sister ship to the MSC Seaside and is rumored close to a significant announcement about a new initiative. River cruising expects more than a dozen new ships in 2018, and the expedition segment will start its dramatic growth with the arrival of two new ships for Compagnie du Ponant in 2018. Over the next three years, more than 20 new cruise ships are due for the expedition segment.
Global Growth
Major ports and destinations around the world are also benefiting from the strength of the industry. Miami will remain the largest homeport expecting a possible 5.4 million cruise passengers in FY 2018. Numbers could top six million in 2019.
Ports of all sizes, are experiencing similar growth in cruise passengers. For example, in 2017, New Orleans saw a record 1.1 million passengers, and last month, Port Tampa Bay again broke its record with a total of 22,960 passengers moving through the Port over a weekend. In Europe, ports from Southampton to Stockholm, Dublin to Helsinki, and many others have all had record years in 2017.
Cruise line executives are seeing this same strength in bookings across all their destinations. Cuba is one of the industry's highlights producing both strong bookings and commanding premium pricing compared to the other Caribbean destinations. Even in China, where various issues have caused some lines to shift capacity, the ships are busy and the industry remains optimistic for the future. Norwegian Cruise Line, for example, reported they were profitable during their first season sailing from China, and Carnival's Arnold Donald says of the Chinese market, "The long-term prospects are outstanding."
This same optimism is pervasive in most markets. Alaska, for example, is increasingly competitive, continuing the strong growth trend it has experienced in the past few years. CLIA Alaska recently issued its forecast calling for another record year with seven percent growth to a projected 1,165,500 passengers in 2018.
Seatrade Cruise Global 2018 will reflect this optimism, with significant announcements expected from many participants.