Search Ends for Missing Towboat Crewmembers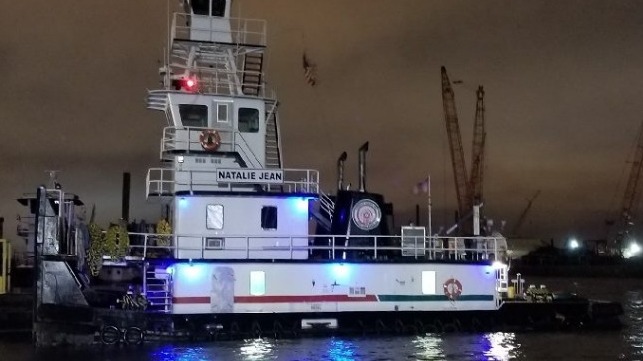 The U.S. Coast Guard has suspended its search for two people who were aboard the towboat Natalie Jean, which sank in the vicinity of Algiers, New Orleans on Monday morning.
Coast Guard crews and local agencies searched approximately 100 square nautical miles for 43 hours and found no signs of the two men. The Coast Guard has identified the missing crewmembers as Malon Dawsey and Karl Prince.
Watchstanders at Coast Guard Sector New Orleans received a report at 0943 Monday that the Natalie Jean had capsized at river mile 90.5. Three people were on board at the time of the incident, and the good Samaritan vessel Earl Gosling rescued one person at the scene.
The Coast Guard said Tuesday that it has not been able to locate the towboat's wreckage. The Natalie Jean had about 600 gallons of diesel fuel on board, but as of Monday afternoon there were no signs of a spill. The Coast Guard says that the cause of the incident is under investigation.
In an interview with the Times-Picayune, maritime surveyor Ron Campana II gave an eyewitness account of the sinking. The Jean's tow got caught in the strong river currents and pulled her over a ship's anchor chain, Campana said, causing her to pitch forward and roll over. Campana was on a vessel near the scene and helped rescue the Natalie Jean's captain after the capsize.
The 1981-built Natalie Jean was a 65-foot pushboat, the larger of two vessels operated by Creole Chief of New Orleans, Louisiana. The firm has declined media requests for comment.