Sea Hunter Sails to Hawaii Autonomously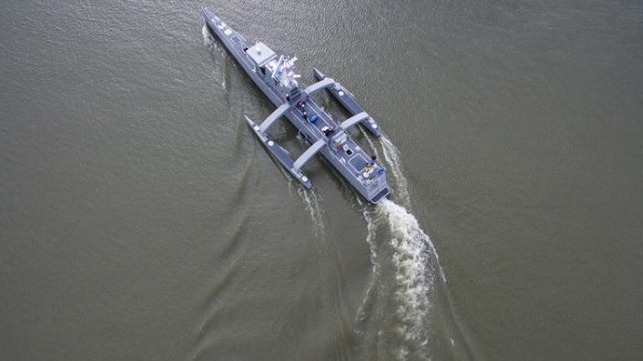 The Office of Naval Research (ONR)'s Medium Displacement Unmanned Surface Vessel, Sea Hunter, has become the first ship to successfully autonomously navigate from San Diego to Pearl Harbor, Hawaii, and back without crew onboard (except very short duration boardings by personnel from an escort vessel to check electrical and propulsion systems).
The 132-foot trimaran was built by Vigor with prime contractor Leidos, and the voyage was part of testing which has been ongoing since 2016. Sea Hunter will continue long duration and mission package testing throughout 2019.
Sea Hunter can shadow diesel-electric submarines for months, without human contact, across thousands of miles of ocean and chase them out of strategic waters, says Leidos. Relatively cheap and virtually silent diesel-electric submarines are challenging to track and are considered one of the key threats to naval and commercial shipping operations. Costing around $200-300 million, they are available to smaller or more volatile nations.
The ONR has already awarded Leidos a potential $43.5 million contract to develop Sea Hunter II, which is currently under construction in Mississippi. The sister ship will be evolved based upon lessons learned during the first Sea Hunter build, evolving mission requirements and further development of autonomy enhancements.
Earlier this year, Leidos was awarded a contract by the U.S. Navy's Naval Sea Systems Command to develop torpedo countermeasure technologies for submarine defense. The single award, cost-plus-fixed-fee contract has a two-year base period of performance, three one-year option years and a potential value of approximately $36 million, if all options are exercised.
Leidos will design, build, and test an acoustic device countermeasure (ADC) called the ADC MK5 – a three-inch diameter device launched from submarines to defend against incoming torpedoes. The company will also provide technical and non-recurring engineering services such as software and hardware development. The project is part of the Navy's Next Generation Countermeasure program to replace existing ADC MK3 systems with newer technologies. Work will be performed in Washington, Northern Virginia, Ohio, California and Florida.