Schooner Under Construction in Jungle Shipyard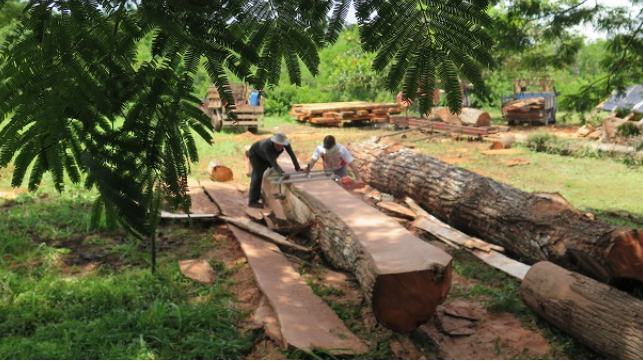 Sailcargo Inc. has chosen Costa Rica as its base for the construction of Ceiba, a 148-foot, three-masted, square-topsail schooner that will be used for carbon-neutral cargo shipping.
The build combines traditional ship architecture and modern technology. She will be powered solely using the wind and a 100 percent electric engine, which will charge all of the ship's own energy, functions as both a propulsion system and a generator whilst sailing. The engine will be combined with modern batteries and solar panels so that all auxiliary power is renewably sourced.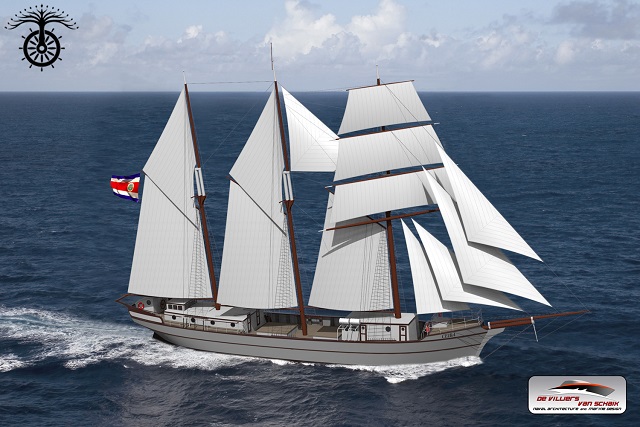 An advanced variable pitch propeller will convert kinetic energy into stored electrical energy to power the ship's functions. Due to the high torque efficiency of electric engines, Ceiba's engine will only need to be about 120 horsepower, which is easy half of what would be required for other engine designs.
Her three masts will provide sufficient sail area to sail in very light winds and enough flexibility and maneuverability for sail changes during heavy weather. Having sail area lower to the deck helps to stabilize the vessel, making her safer. Her three-masts also allow for flexibility when loading or discharging cargo, as her spars double as cranes.
Sailcargo chose Costa Rica for the project because of its commitment to carbon neutrality by 2021 and its favorable geographic position and business environment. Ceiba's keel is to be made from four storm-fallen mountain tamarind trees uprooted by a hurricane in Upala. A reforestation project is underway to ensure that enough trees are planted on a regular basis to replace the materials used, off-setting the carbon footprint of the project and developing a sustainable system where more working vessels can be built entirely of lumber planted for the purpose.
Nearly all of the shipyard structures are complete, and the actually build of the ship is about to commence with around 25 percent of the lumber already milled to size. By the time the 3.5 year building period comes to a close, it is estimated that nearly 250 people will have worked on the ship.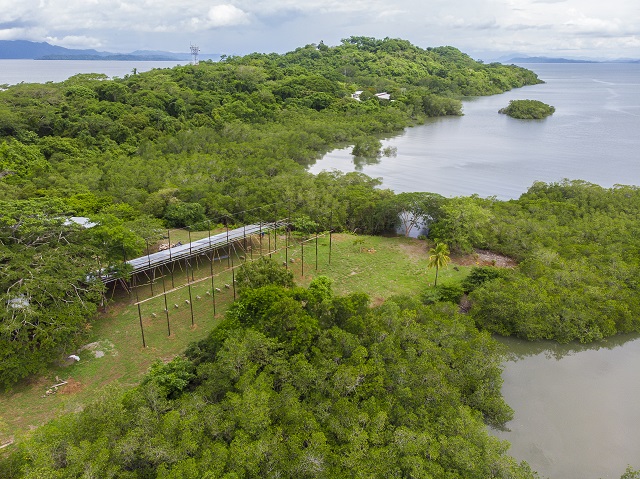 The company says Ceiba will offer something unique to both exporters and importers: the opportunity to finally close the loop for their most important organic, sustainable products. "Transporting products which are promoted as 'green' via container ships feels hollow."
The project is being funded as it happens, with people around the world investing in shares.
Specifications
Length Overall (LOA): 45m / 148ft
Length on Deck (LOD): 35m / 116ft
Length Water Line (LWL): 32.3m / 106ft
Height of Rig: 33.5m / 110ft
Beam: 8m / 26ft
Draught: 4.3m / 14ft
Cargo Capacity: 250 tons / 350+ cubic meters
Suit of Sails: standard press 14 sails, 12 additional hand sewn light-airs canvas (Studding Sails)
Running Rigging: Classic synthetic, 3-lay line
Primary Standing Rigging: 7 x 19 Galvanized steel wire rope
Secondary Standing Rig: Served Dyneema / Spectra
Spars: Hollow-laminated as well as solid spars
Termination points of galvanized steel yard-arm bands + rope-strops