Salvors Refloat Wreck of Thai Tour Boat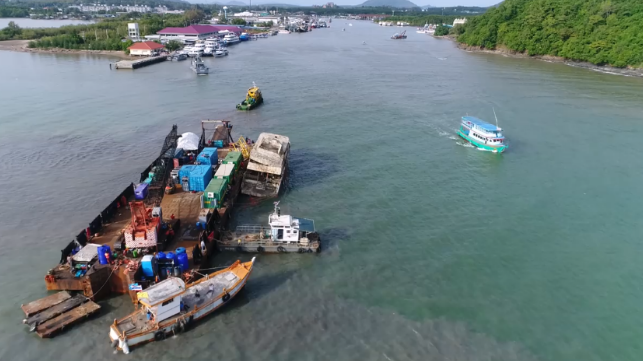 After initial challenges, salvors have raised the wreck of the Phoenix, the tour boat that went down off Phuket in July. The sinking claimed the lives of 47 Chinese tourists, leading to a broad downturn in Chinese tourist traffic in Thailand.
Initial attempts to refloat the Phoenix relied upon airbags, and were not successful. Thai authorities chartered a heavy lift vessel from Singapore to make a conventional lift attempt, and on Saturday the salvors managed to raise the wreck from the bottom.
The Phoenix went down in rough weather off Phuket on July 5 with 89 tourists on board. 42 individuals were initially confirmed dead, and the number has since risen to 47. Over one dozen of the victims were children, and the overwhelming majority were Chinese nationals.
Two other vessels were caught in the same weather and capsized the same day, including a passenger vessel. No lives were lost in the second and third casualties.
In the aftermath of the Phoenix's sinking, Prime Minister General Prayut Chan-o-cha apologized to the government of China and traveled to meet personally with survivors in Phuket. "Measures to prevent a similar disaster must be implemented immediately. Every boat must follow official warnings," he told media after the casualty. "This entire process of marine safety must be reviewed."
For his role in the accident, the Phoenix's master has been charged with negligence causing damage and loss of life, a charge that carries a maximum penalty of three years' imprisonment. He maintains that he is innocent of the charge.
After the sinking, China's Ministry of Culture and Tourism called on travel agencies throughout China to check carefully on the safety of their offerings, and it recommended that Chinese holidaymakers do the same when booking their own travel.
In August, one month after the casualty, the number of Chinese visitors to Thailand declined by 12 percent - a serious issue, given that Chinese nationals are the biggest customers for Thailand's giant tourist industry. The count declined an additional 15 percent in September. In a statement, Tourist Police Bureau Deputy Chief Maj. Gen. Surachate Hakparn told media that raising the Phoenix and finding the cause of her sinking "will be able to restore Chinese tourist confidence."