Salvini Investigated for Kidnapping Over Migrant Detentions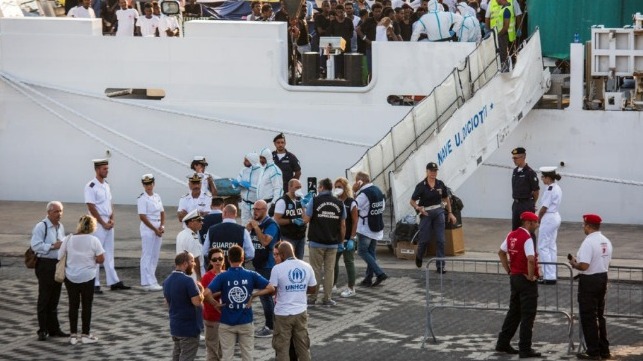 Matteo Salvini, Italy's minister of the interior and the leader of the hard-right League party, is under investigation for the prolonged detention of 150 migrants aboard a coast guard cutter in Catania, Sicily. Salvini refused to allow the rescuees to disembark unless other EU nations agreed to take them in, and local prosecutors have named him as a suspect in an investigation into potential kidnapping, illegal arrest and abuse of office.
In a statement, Salvini responded that "being investigated for defending the rights of Italians is a disgrace." He expressed his willingness to be arrested for his actions.
The Italian cutter Diciotti took aboard 190 migrants from an overloaded boat off Lampedusa on August 15. The crew sent 13 ashore for medical care, then spent four days at sea while Italy and Malta debated where the vessel would be permitted to dock. Ultimately Italian transport minister Danilo Toninelli allowed the Diciotti to enter the port of Catania, but Salvini still insisted that the migrants could not disembark unless they were taken in by other nations.
Salvini relented in part on August 22 and allowed 27 minors to leave the vessel. However, the remaining 150 were still detained on board, and protesters descended on Catania over the weekend to demand their release. The last of the migrants were allowed to disembark Sunday after the Catholic Church and the governments of Ireland and Albania agreed to accept them.
Yesterday Demonstration in #Catania #Italy calling for release and protection of the 150 people held hostage on the rescue ship #Diciotti since Monday as the Lega-5 Star govt refuses to allow it to dock.pic.twitter.com/DDmqlxBidg

— Anna Irma Battino (@AnnaIrmaBattino) August 26, 2018
The dispute has opened a rift within the League party's coalition partners, the Five Star Movement. Roberto Fico, president of Italy's chamber of deputies and a leader of the populist Five Star Movement, called for all the migrants to be brought on shore and later relocated within the EU. "Bargaining with the countries of the European Union can continue without any problem, but now the [people] must be able to disembark," he said in a social media post last week. However, Five Star leader Luigi Di Maio has mounted a strong defense of Salvini and his refusal to allow the group into the country.
The UN refugee agency, UNHCR, issued a call for a long-term political solution to end the recurrent fight over migrant arrivals in the Mediterranean. "This needs to be a wake-up call," said UN High Commissioner for Refugees Filippo Grandi. "Refugees and asylum-seekers are having their lives put at risk while States continue to engage in political arguments over longer-term solutions. The Diciotti situation is now resolved, but what happens next time? We need a collaborative and reliable European approach towards persons rescued at sea."