Sakhalin Shipping Company Among Russian Entities in Latest U.S. Sanctions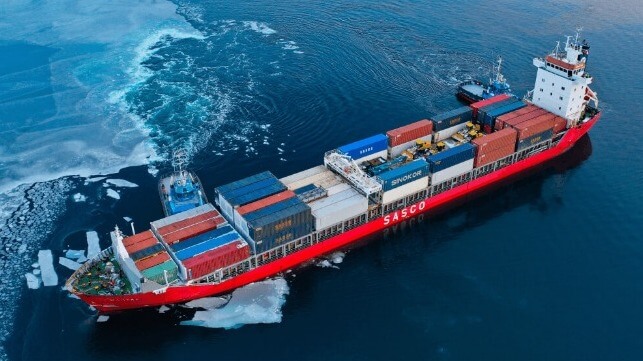 As the war in Ukraine has again heated up including attacks on Ukraine's Black Sea ports and threats against shipping in the region, the United States is moving forward with yet another round of sanctions. The U.S. departments of Treasury and State on Thursday released long lists of additional companies saying this included targeting more shipping interest as well as technology suppliers, importers, developers, munitions, mining, the financial infrastructure, and companies involved in avoiding sanctions.
Among the sanctions is a Russian shipping company, Sakhalin Shipping Company (SASCO), that the U.S. State Department says is aiding the Russian aggression in Ukraine. They cited SASCO for providing support for future energy projects by delivering construction material and equipment transported on the Northern Sea Route (NSR). SASCO, they noted, is also involved in expanding Russia's trade routes to new jurisdictions as the Russian Federation looks to backfill economic connections it has lost due to the invasion of Ukraine.
The company, alongside its two subsidiaries, and a fleet of 14 ice-class vessels cutting across container vessels, dry cargo vessels, and ferries, are part of 120 organizations and individuals that have joined a growing list of Russian entities blacklisted by the U.S. government. The subsidiaries are OOO MPL Vanino Sakhalin, which is responsible for facilitating the renting and leasing of maritime transport equipment, and AO Vostok Treid Invest which is responsible for buying and selling real estate for SASCO.
The State and Treasury departments said the decision to sanction the entities is aimed at inhibiting Russia's access to products that support its military and war efforts, reduce Moscow's revenue from the metals and mining sector, undermine future energy capabilities, degrade access to the international financial system and starve Russia of G7-produced technology needed for its technology, aerospace, and defense sectors.
"As long as Russia continues to wage its unprovoked and brutal war against Ukraine, we will impose sanctions to deprive Russia of the technology it needs and disrupt the Russian arms industry's ability to resupply," said Wally Adeyemo, Deputy Secretary of the Treasury.
Last month, SASCO announced it would be deploying two vessels, the 12,000 dwt SASCO Aldan and the 6,030 dwt Selenga, to transport cargo to the Far North region through the NSR, a development that was designed to advance its lead in Russia's domestic shipping and connections with Asia countries.
Russian conglomerate Delo Group, which acquired a controlling stake in SASCO in August last year, contends that SASCO performs two-thirds of all Russian domestic sea carriages and is instrumental in the expansion of navigation along the NSR.
Russia was quick to condemn the latest round of sanctions, with the Russian Embassy in Washington stating that the "destructive actions" will only give Moscow more resolve in its pursuit of financial and technological sovereignty and aspiration to strengthen defense capabilities.