Russia Releases Comprehensive Plan for Arctic Logistics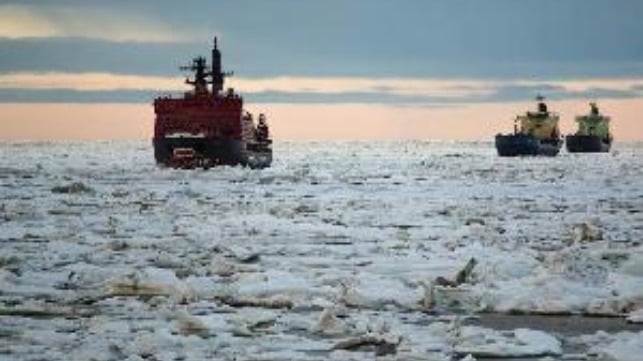 Russia's Ministry of Natural Resources has prepared a plan for mineral exports from the Arctic which includes 118 projects aimed at the processing of Arctic mineral resources and shipping them along the Northern Sea Route.
Implementation of the projects would cost around 10.5 trillion rubles ($163 billion) up to 2030.
LNG, oil, condensate, coal and minerals are already transported year-round from the ports of Sabetta and Dudinka and the seasonal ports of Numgi, Pevek and Cape Verde.
An increase in the projected volume of cargo traffic along the Northern Sea Route could be driven by the timely commissioning of planned projects including the Taimyr coal basin and the Payaykh oil field, states the Ministry. Additionally, more traffic could come from the implementation of a number of infrastructure projects connecting to the Northern Sea Route (in particular, connection of the Suzunsky, Tagulsky and Lodochnoe oil fields).
With these projects the flow of minerals along the Northern Sea Route could reach 77 million tons by 2024 - close to the target of 80 million tons set by President Vladimir Putin.
The export of such cargo volumes will require the construction of more port infrastructure, greater availability of ice-breakers and ice-class cargo ships, as well as appropriate navigation and meteorological support.
The report was commissioned by Prime Minister Dmitry Medvedev in December last year. 17 tasks were commissioned at the time including the development of new ports and terminals and the construction of icebreakers. At the time, he said: "Our focus should be on the development of huge so-called anchor projects, that will create completely new conditions for the development of the Northern Sea Route and its year-round utilization."
In 2018, Putin signed the law "On introduction of amendments into certain legislative acts of the Russian Federation (on participation of Rosatom Corporation in functioning of the Northern Sea Route)." According to the law, the bulk of authority is handed over to Rosatom which is to have its plans approved by the Ministry of Transport.
Rosatom, which operates Russia's nuclear icebreaker fleet, will have full authority over infrastructure, access, security and shipping on the Route as Russia seeks to open the Arctic for commercial navigation on a year round basis – potentially halving sailing times between Europe and Asia.