Russia Protests as Carrier USS Ford Arrives in Oslo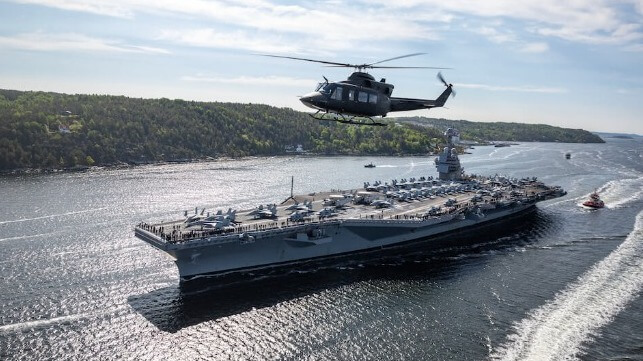 The first-in-class carrier USS Gerald R. Ford has arrived in Oslo, making her the first carrier to call in Norway in more than six decades. Her crew will have shore leave in the historic city, and the ship will host foreign dignitaries for a reception recognizing Norwegian and U.S. defense ties.
Ford departed Norfolk on May 2 for her first full deployment, second deployment overall, and second transatlantic voyage.
Ford, delivered to the Navy in 2017, has undergone a gradual process of commissioning, training and repair over the past six years as the service works through kinks in her first-of-a-kind mission systems - some of which were not developed to maturity before installation. That extended period of work is finally beginning to pay off, and the $13 billion vessel is now ready to go to work, according to 2nd Fleet.
On her previous, trial-scale overseas voyage, she visited Nova Scotia and crossed the North Atlantic in the company of warships from other NATO navies. She made a port call at Plymouth UK, then returned to Norfolk in late November after 52 days abroad.
After a refit and workup period, Ford successfully received certification for open ocean air operations for the first time in early April. She was widely expected to relieve the USS George H.W. Bush in the Mediterranean, but headed north to Norway instead, leaving the Med without a carrier for the first time since the invasion of Ukraine. (Bush left without a relief in April and returned to Norfolk.)
Before calling at Oslo, the Gerald R. Ford Carrier Strike Group conducted exercises with the Norwegian Navy frigate HNoMS Roald Amundsen. After she departs, she is expected to sail above the Arctic circle, according to Norwegian media. It would be the first time in five years that an American carrier has gone that far north.
The aircraft carrier USS #GeraldRFord arrived in #Oslo today. Watch the stunning video of the largest warship in the world in the Oslo Fjord, taken from a Norwegian Bell 412 helicopter. Welcome, @Warship_78 – we look forward to cooperation and joint training. #StrongerTogether pic.twitter.com/vSEPTgaCUd

— Norwegian Armed Forces | Forsvaret (@Forsvaret_no) May 24, 2023
"This is Norway's security. It is a clear expression of the security guarantees we have through NATO, not least the close cooperation and partnership we have with the United States," said Norwegian Defense Minister Bjørn Arild Gram in a statement.
In a sign that the Ford's symbolism was not lost on the Kremlin, the Russian Embassy in Oslo vigorously protested the carrier's arrival. "Considering that it is admitted in Oslo that Russia poses no direct military threat to Norway, such demonstrations of power appear illogical and harmful," the Russian embassy wrote in a social media post.