Royal Navy Trains AI to Detect Hostile Small Craft
The Royal Navy is helping to train an artificial intelligence system that can analyze small-craft movements and decide whether watercraft are just some boaters out for a ride or a hostile force preparing to attack.
The Defence Science and Technology Laboratory (Dstl), the UK's in-house military R&D institution, is working on an AI system that can look at photos and videos of watercraft and categorize the boats' behavior. The goal is to identify whether a group of small craft are moving in a random way, like civilian powerboats, or whether they are operating in a coordinated and controlled pattern - as they would if they were run by military personnel.
In order to "learn" about how military small boat teams move and behave, this AI program needs a set of reference photos and videos that it can pore over for training. Last month, the Royal Navy carried out an exercise on the Solent to create a data set for what an expert (or inexpert) small-boat military operation looks like.
The maneuver was a relatively large-scale operation involving 13 vessels, 130 personnel, drones, a small aircraft and over 50 cameras and sensors over an 18-mile course on the Solent. The boat teams spent five days demonstrating close formations, attack profiles, convoys and beach landings. In addition to crisp, professional landing operations, the personnel also simulated more "chaotic" behavioral traits of a less-trained force, which - even if disorganized - could still pose a threat along the waterfront.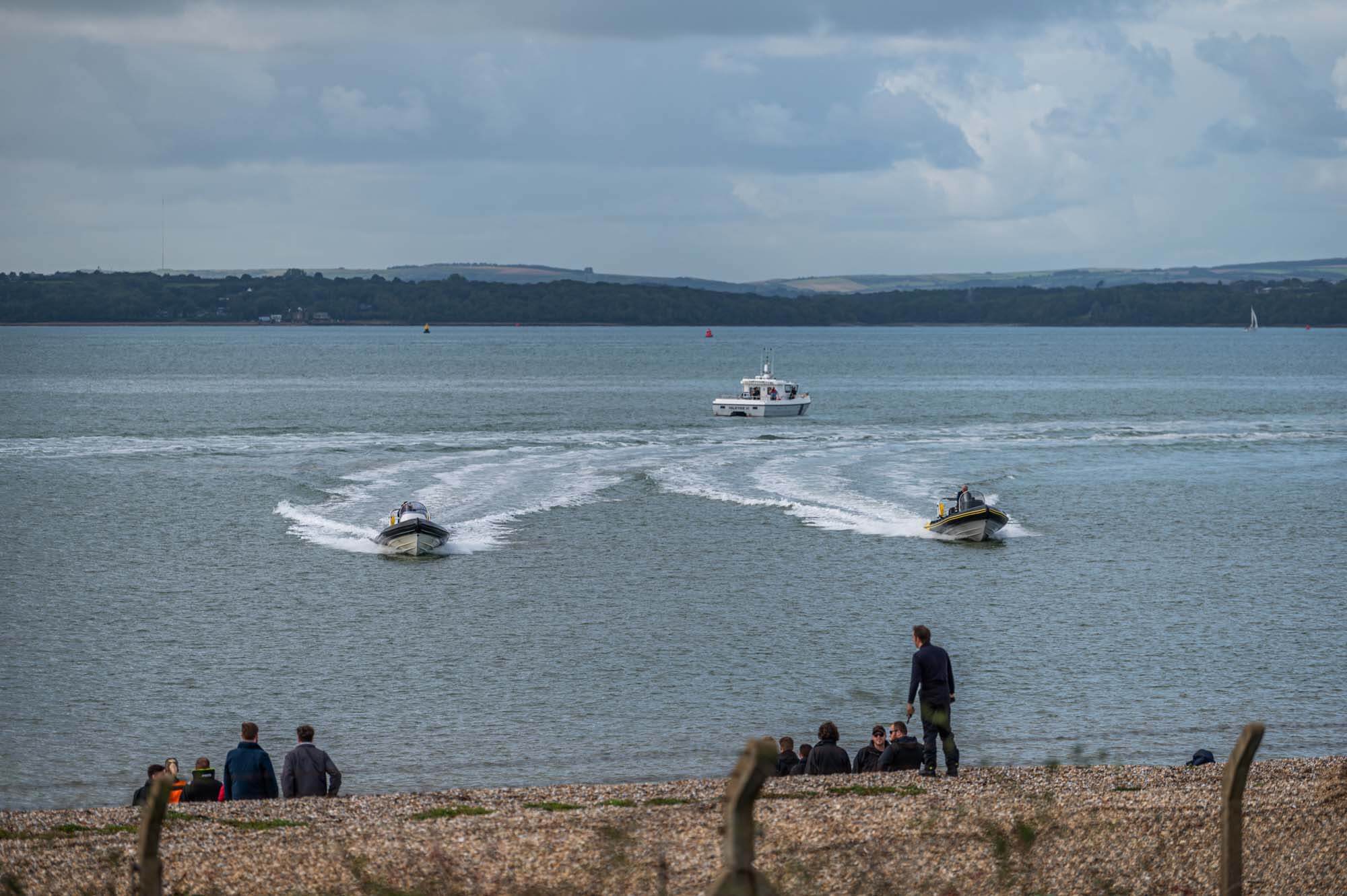 Royal Navy small boat operators simulate a military landing operation on the Solent (Royal Navy)
"This was an ambitious and challenging trial which builds on the experience and expertise gained during a previous land-based exercise," said Charlie Maslen, Dstl's trial technical authority. "Conducting a trial with sensors spanning three domains – land, sea and air – involving 12 separate industry partners was immensely complex, added to which we were hampered on two days by 40-knot winds."
The trial sponsors collected video footage, photos, infrared imaging, sonar and radar of the exercise. All of it will be fed into the AI algorithm for training purposes, along with contextual information like weather, sea state and sensor locations.
The Royal Navy is also experimenting with AI tools for warship command and control in a human-AI teaming (HAT) arrangement; AI-based maintenance tracking software to analyze and predict when helicopters will need repair; and has invested in an AI-powered chatbot to help out prospective recruits find detailed information about the service.