The British Royal Navy has been operating a fleet of Boeing Insitu ScanEagle surveillance drones on its frigates for three years, using the remotely piloted craft for missions from pirate hunting off Somalia to anti-trafficking and SAR missions in the Mediterranean. But despite its successes and its wide popularity in defense circles, the system will be removed from service in the Royal Navy next year due to a lack of funds, and will likely not return for a minimum of two years.
At the time of the system's acquisition in 2013, Minister for Defence Equipment, Support and Technology Philip Dunn suggested that ScanEagle was a high priority. "Our continued investment in intelligence, surveillance and reconnaissance systems is essential to keeping our Armed Forces up-to-date with the latest capabilities and this will be a central part of MOD's investment in new equipment over the next 10 years," he said.
Now entering its second decade of military and civilian service, the ScanEagle is operated by the U.S. Navy, Army, Marine Corps, Coast Guard, National Oceanic and Atmospheric Administration and the armed forces of Australia, Canada and Tunisia. Shell recently began use of the system for gas pipeline inspection in Australia.
The latest model can operate continuously for as long as 20 hours at a distance of up to 60 miles from its command and control base. The craft are small enough to launch from an 80-foot Mark V SEAL operations boat, but large enough to carry a small radar, an infrared camera or (an optional package) a ViDAR optical detection system.
The suspension of the Royal Navy's use of the system is unusual in that it coincides with announcements of a new drone systems initiative featuring mass exercises off the coast of Scotland, with dozens of unmanned and autonomous designs expected to participate. The exercise will incorporate over fifty different unmanned systems – underwater gliders, subs, autonomous surface craft, helicopters, quadcopters and planes – in what its organizers bill as the largest ever event of its kind.
Admiral Sir Philip Jones, First Sea Lord and Chief of Naval Staff, recently said that "the growing scale of Unmanned Warrior is a clear demonstration of the Royal Navy's ambition to lead and win through technological innovation. Unmanned maritime systems will change how we operate."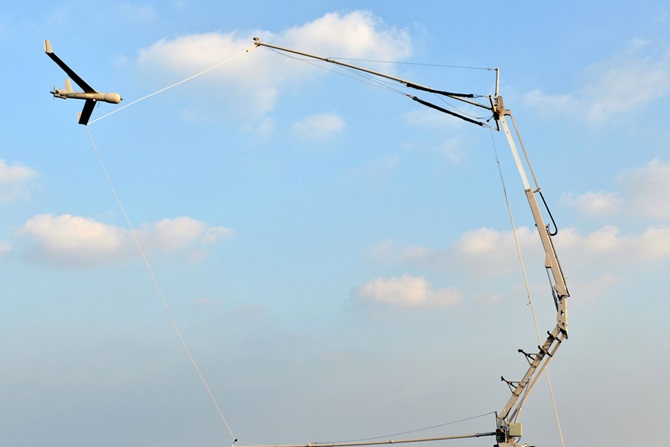 ScanEagle landing system