Royal Navy Reveals Name of New Submarine Hunters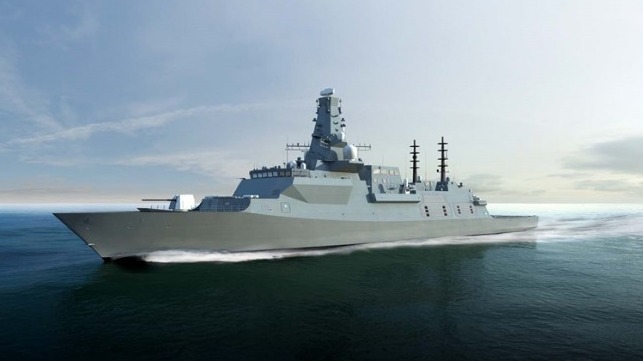 U.K. Defence Minister Stuart Andrew has announced that the Royal Navy's new submarine hunter will be named HMS Sheffield. The ship will be the fourth ship to carry the name and will be Britain's fifth Type 26 frigate.
The naming of HMS Sheffield came as Defence Secretary Gavin Williamson also announced the sixth ship would be called HMS Newcastle.
The two ships will join HMS Glasgow, HMS Belfast, HMS Cardiff, HMS Birmingham and HMS London. The final name has yet to be announced.
All of the Type 26 frigates will be built on the Clyde, supported by suppliers across the country and securing decades of work for more than 4,000 people. The first three ships have already been ordered for £3.7 billion ($4.7 billion).
The news also came as the Defence Secretary announced he will retain three of the Royal Navy's patrol ships to bolster Britain's fishery protection capability. The Royal Navy currently provide around 200 days of fishery protection a year. The Defence Secretary's announcement means that the Royal Navy will now have the capacity to deliver up to 600 days of fishery protection a year if needed.
The ships are also vital to the Royal Navy's anti-smuggling and counter-terrorism work, and frequently escort foreign vessels, including those from Russia, through the English Channel. Just last month, HMS Tyne monitored a Russian frigate as it passed through the English Channel, while last year, HMS Mersey returned from a 48,000-mile deployment where she played a key part in a £12 million drugs bust off the coast of Nicaragua and helped combat the migrant crisis in the Mediterranean.
The ships also deter illegal pollution activity and provide emergency firefighting capabilities for ships in distress.
The Royal Navy expects to have five its new-generation Batch 2 Offshore Patrol Vessels, HMS Forth, HMS Medway, HMS Trent, HMS Tamar and HMS Spey, operational by the end of 2020.