Royal Navy Autonomous Minehunter Begins Testing in Persian Gulf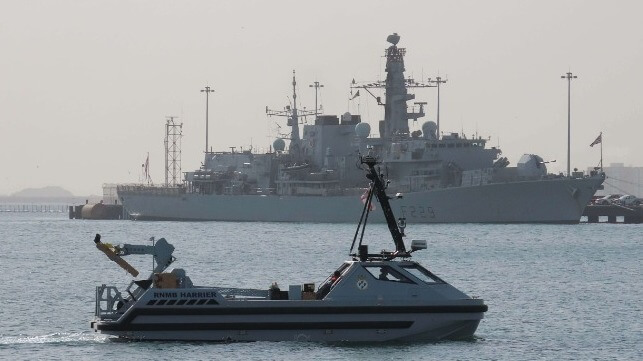 The Royal Navy has deployed its Atlas autonomous mine-hunting vessel to the Middle East for operational testing and evaluation, the service announced this week. It is another step along the decade-long program to phase out manned minehunting vessels in favor of unmanned systems, reducing risk to human operators and speeding up mine detection and clearance.
The prototype Royal Navy Motor Boat Harrier will work alongside the amphib RFA Cardigan Bay, homeported in Bahrain, and will undergo a series of trials to test its capabilities. The Persian Gulf is a high priority for mine-countermeasures capability, since Iran has a large stockpile of advanced naval mines and is expected to deploy them in the event of a conflict. The addition of high-tech autonomous minehunting boats could augment the allied fleet of aging mine countermeasures vessels based out of Bahrain; the American and British mine countermeasures vessels currently assigned to the region are decades old and due for retirement.
The 35-foot unmanned Harrier can operate autonomously on a pre-programmed mission or can be driven manually from a remote control station. The boat is fitted with a towable sidescan sonar array to hunt for mines on the seabed, and she is designed to tow a minesweeping system (though this will not be part of the initial trial).
According to the Royal Navy, the Persian Gulf heat will be a big part of the test regimen. Harrier was built in the UK, and Bahrain is quite a bit warmer. The temperature difference can be meaningful for ships' systems, as the Royal Navy discovered with the Daring-class air defense destroyers. The high-spec warships had difficulty with their gas turbines in the Middle East heat, because the engines were designed for different specifications.
"We are not just proving the equipment and operating procedures but setting the template on how we operate and integrate within the wider force," said Lt. Commander Mark Shaw, the commanding officer of the program. "The deployment of this cutting edge technology to the Gulf signals the UK's commitment to the region and to freedom of navigation and the free flow of commerce."
In transitioning to autonomous operations for minehunting, the Royal Navy's objective is not only to shed the cost of a full-size manned vessel, but to take the crew out of the danger zone in a notoriously hazardous business. In 2021, the service reassigned a permanent vessel crew from its 1st Mine Countermeasures Squadron to work with Harrier and her sister boats, Hebe and Hazard. The crew was the first group of Royal Navy minehunting specialists to make the transition from the traditional Sandown-class mine countermeasures vessels to a new unmanned future, with more expected to follow.