RMS St Helena Converted to Floating Armory
The RMS St Helena arrived in St Helena for the last time on January 29, 2018. As Britain's last working postal ship, she sailed to the remote islands of St Helena delivering mail to 4,500 residents for nearly three decades.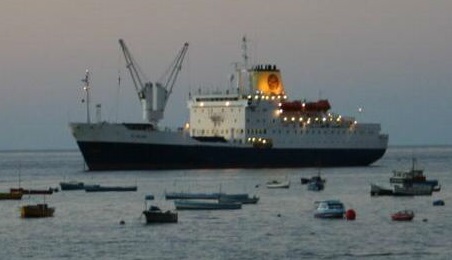 St Helena now has a commercial airport, so the purpose-built ship is no longer needed. Renamed MNG Tahiti, the 103-meter (340-foot) ship is being readied by her new owner MNG Maritime to become a floating armory working in the Gulf of Oman. She will deliver security guards and weapons to vessels sailing through the region and is expected to be operational in her new role in the next few months.
St Helena lies in the South Atlantic Ocean, 4,000 kilometers (2,500 miles) east of Rio de Janeiro and 1,950 kilometers (1,210 miles) west of the Kunene River which marks the border between Namibia and Angola in southwestern Africa.
The RMS St Helena was built by Hall, Russell & Company in Aberdeen in 1989 and has berths for a maximum of 156 passengers plus 56 officers and crew. She first came into service in 1990 and primarily shuttles between the St Helena Island, neighboring Ascension Island and Cape Town. Other than the sporadic international cruise ship visit over the years, she has been St Helena's only constant link with the outside world.