Australian river cruise ship operator Scenic has announced its foray into Arctic and Antarctic cruising with a six-star ultra-luxury mega yacht called Scenic Eclipse.
The vessel will be the first ocean cruise ship for the company which currently runs a fleet of 21 vessels throughout Europe, Russia and South-East Asia. It is expected to be launched in August 2018.
The 165 meter (540-foot) long, 21.5 meter (70-foot) wide, eight-deck vessel will be built to 1A super ice class (polar class 6) and will have twin enginerooms, EPA Tier 4 (IMO Tier III) engines, dynamic positioning capability to avoid anchor damage in sensitive areas and an advanced waste water treatment system.
Scenic says that it has duplicated all critical ship systems in order to ensure passenger safety including the construction of a backup wheelhouse.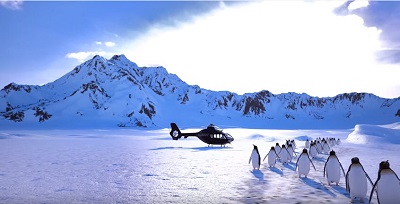 For passenger comfort, the vessel's stabilizers will be twice the size of those typically used on a vessel of that size and will have zero speed functionality.
The vessel will have two helicopters and a seven-seat submarine as well as kayaks and Zodiacs.
The ship will have a 200-passenger capacity limit of for Arctic and Antarctica cruise to allow a number of landings per day for each guest.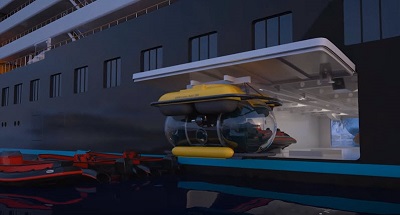 Scenic Eclipse is being built at Uljanik Shipyard in Croatia, and Oliver Design of Spain is working on the exterior styling and architectural design. A second ship is expected to be delivered in June 2019.
Growing Competition
The vessel is part of a growing fleet of polar cruise vessels. Silversea Cruises announced last year that it is moving Silver Cloud to its expedition fleet from November 2017. The ship will mostly sail Arctic and Antarctic seas, with passenger numbers restricted to 200.
Silver Cloud will be converted into an ice-class vessel, and it will house 18 Zodiacs for shore excursions led by geologists, marine biologists, historians and other experts.
Quark Expeditions has added a small-boat itinerary to the Antarctic Peninsula with a 19-day
"Unchartered Antarctic" cruise. The 12-passenger ship Hans Hansson is small enough to take passengers on flexible shore visits to small harbours and remote bays.
This year, Crystal Cruises will be the first luxury cruise line to offer a cruise through 900 miles of the Northwest Passage. Beginning August 16, 2016 in Anchorage Alaska, Crystal Serenity will sail for 32 days from the Pacific to New York on the Atlantic Ocean with over 1,000 passengers on board.