Report: White House May Send Two Carriers to Show Support for Israel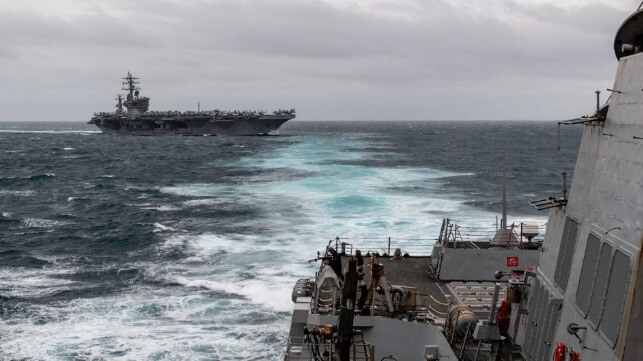 The carrier USS Gerald R. Ford and her escorts have arrived in the Eastern Mediterrranean, sending a message of support for Israel and a warning to other regional players like Iran and Hezbollah. In addition, the U.S. is considering the possibility of sending a second aircraft carrier to join her.
In just two days, Ford steamed from Italy to Israel, accompanied by the cruiser USS Normandy and the destroyers USS Thomas Hudner, USS Ramage, USS Carney and USS Roosevelt.
"The arrival of these highly capable forces to the region is a strong signal of deterrence should any actor hostile to Israel consider trying to take advantage of this situation," said General Michael "Erik" Kurilla, commander, U.S. Central Command.
USS Ford is on her first full operational deployment, and it is a major milestone: it caps five years of repairs to the new ship's advanced warfighting systems, including her weapons elevators, catapults, arresting gear and radar. These systems have not been tested yet in combat, and the Defense Department's testing watchdog warned in January that the reliability of Ford's advanced catapults, arresting gear, and jet blast deflectors still had an "adverse effect" on flight operations. The Navy suggests that Ford has greatly improved.
Politico reported Tuesday that the Navy will be dispatching a second carrier to join Ford in the Eastern Mediterranean. The Nimitz-class carrier USS Dwight D. Eisenhower was already scheduled to deploy to U.S. 6th Fleet and will now depart Friday, Pentagon officials told the outlet. If directed, she could be in the Eastern Mediterranean by the end of the month.
A second carrier will augment Ford's capability and give U.S. Central Command the flexibility to respond to other contingencies elsewhere in Europe if needed. The U.S. Navy has maintained a steady carrier presence in the Mediterranean since the beginning of the invasion of Ukraine.