Report: Russia is Losing $170M a Day Due to Oil Price Cap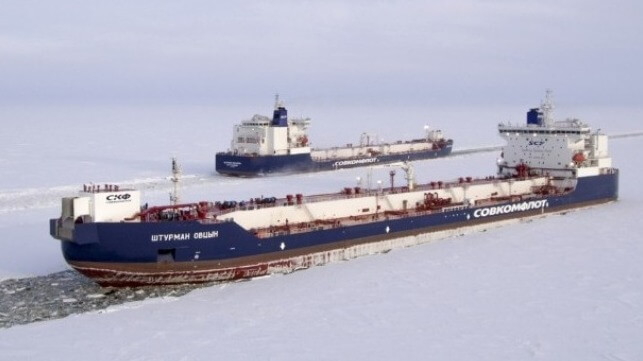 Russia continues to export millions of barrels of oil each day after the implementation of the G7/EU price cap on its exports - but it is not making as much money as it used to, according to a new study.
Analysts at Finland's Centre for Research on Energy and Clean Air (CREA) estimate that the falling price for Russian crude oil is costing Russia more than $195 million a day. Russian energy exporters are offsetting that loss by about $22 million daily through increased sales of refined products to Europe, but the net damage is still in the range of a substantial $170 million daily.
This drop is concerning for the Kremlin. "The government, first of all Deputy Prime Minister [Alexander] Novak, is watching the situation very closely, as [is] the Energy Ministry," presidential spokesman Dmitry Peskov told state media earlier this week.
When an EU ban on Russian refined products takes effect on February 5, the financial hit will increase further: Russia is expected to have difficulty in finding alternative markets for the diesel and fuel oil it sells to Europe, and Russian refiners may have to slow throughput. These impacts, plus expected cuts in pipeline exports, will shave another $130 million off of Russia's energy revenue by early February.
The impact will be welcome news to Ukraine and its allies, as tax revenue from oil and gas makes up the largest single component of Russia's federal government. That funding is critical to Russia's invasion of Ukraine, paying for tanks, drones and hundreds of thousands of new conscripts.
However, the funding spigot has not yet been fully turned off. Russian export volumes are down, and the flagship Russian Urals crude grade is trading at half the price of the international Brent benchmark - but Russia is still making an estimated $700 million per day from fossil fuel exports.
The West has policy options to cut further into that revenue stream, according to CREA. Dropping the G7 price cap on Russian oil exports from $60 down to $20-30, as Ukraine has requested, could reduce Russia's seaborne oil exports by another $100 million per day.
Tightening up loopholes in the price cap could further restrict Russian oil exporters' access to market. 60 percent of the tankers calling at Russia's oil terminals have some connection to G7/EU shipping services markets, whether through ownership, broking, insurance or other ties. They are participating according to plan in the Baltic and Black Sea, but on Russia's Pacific coast, some UK-insured tankers are still lifting cargoes priced above the cap, according to CREA - breaking the rules without any apparent penalty.
Even if it were 100 percent effective, the price cap might not affect the course of the war, according to Dr. Tatiana Mitrova, a fellow at Columbia's Center on Global Energy Policy.
"Even if oil revenues decline drastically, the National Wealth Fund is big enough to finance Russia's war for another year or eighteen months. What the decline certainly will impact is Russia's development and long-term investment in new projects, both fossil fuels and green technology," Mitrova wrote in a recent essay for the Carnegie Endowment. "In a decade, the energy superpower status Russia had claimed will be firmly in the past."