Report: Korea's Hanwha Ocean Moves to Buy Philly Shipyard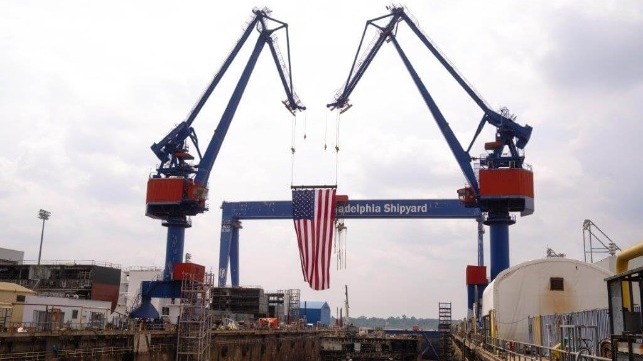 Hanwha Ocean is reported to be making moves to purchase Philly Shipyard, the Jones Act shipbuilder known for commercial and government shipbuilding for U.S. coastwise trade.
According to Korean media, Hanwha has sent an inspection team to Philly Shipyard in connection with the planned acquisition.
In a brief statement, Philly Shipyard said that it was aware of the press reports and "is continuously looking at strategic alternatives to maximize shareholder value." It said that it would not comment on "rumors or speculation," and will issue a market update "if and when appropriate."
If accurate, it would not be Philly's first negotiation with Hanwha: it has a longstanding business relationship with DSEC, the engineering and naval architecture division of Hanwha Ocean's predecessor. DSEC has supplied the detail design and much of the equipment for multiple Philly ships, including the National Security Multi-Mission Vessel (NSMV) program. According to customs records, DSEC has delivered thrusters, pumps, engine room modules, and other components for NSMV hulls.
The acquisition would also be a continuation of longstanding foreign ownership at Philly, which has been a Norwegian company from the outset. After the closure of the U.S. Navy's Philadelphia Shipyard in the 1990s, the government drydocks were leased to Kvaerner Shipbuilding to found the yard. Today it is majority-owned by Aker Group, a Norwegian maritime conglomerate, which holds about 60 percent of the firm's shares.
Philly is listed on the Euronext Oslo Exchange, and its share price has risen by about 35 percent over the past five days.
Hanwha Ocean has telegraphed its plans to expand into U.S. shipbuilding for months. In August, it raised a total of $1.5 billion in a rights issue, with $680 million earmarked for "secure overseas production bases and advanced technologies, targeting the global maritime defense market in the United States and Europe." Foreign participation in these shipbuilding markets generally requires localized production, as demonstrated by Australian-owned Austal USA and Italian-owned Fincantieri Marinette Marine, which build surface combatants for the U.S. Navy.