Report: European Commission Drafts a Phased Ban on Russian Oil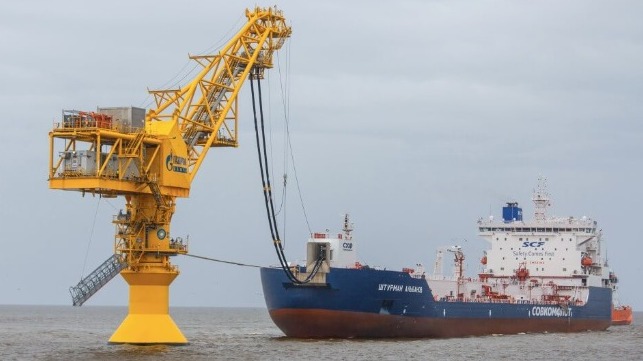 The European Commission has formally drafted a long-awaited ban on Russian crude oil imports, according to the Wall Street Journal, and it circulated the details to EU member states on Tuesday. If adopted, the measure would force Russia to sell its oil at a discount to faraway buyers, like refiners in India and China.
The proposed text would require most EU member states to phase out Russian crude imports within six months and all Russian refined products within the year, officials told the paper. The plan contains a 20-month extension for Hungary and Slovakia, which both rely heavily on Russian crude oil supplies.
All 27 EU member states must agree to the plan in order for it to be enacted. The government of Hungarian President Viktor Orban has been vocal in its objections to the idea of a Russian crude oil ban, and the carveout would allow Hungary to continue to source Russian oil for the foreseeable future.
In addition to a ban on Russian oil, the sixth round of sanctions will also remove additional Russian banks from the SWIFT financial messaging system and list Russian "disinformation actors," according to EC foreign affairs commissioner Josep Borrell.
The possibility of an outright ban on Russian oil reflects significant efforts by EU member states and oil refiners to find alternate sources of crude. Germany, which once sourced about one third of its oil from Russia, now expects to fully transition to other suppliers by the end of the summer.
It may also accelerate a trend of "self-sanctioning" by Western oil traders, who have already begun limiting their exposure to Russian crude because of the perceived risks. If these barrels are locked out of the market in Europe and North America, they will have to be sold for less to buyers in India, China and elsewhere - but the obstacles are significant. According to Bloomberg, the options for financing and insuring Russian oil are getting slimmer, and Asian buyers are demanding steep discounts to cover the inconvenience.
Assuming that Russia can find alternate markets to absorb production, tanker owners could be up for a windfall with the reshuffling of the oil trade. With fewer short-haul shipments running between Russia and Europe, tonne-mile demand for long-haul transport of oil could rise. In addition, Western sanctions on Russian shipping have restricted the trading patterns and insurance options for Russian tanker companies, creating more opportunity for their foreign competitors, according to shipbroker Gibson.