Report: $12B Shipbuilding Need for Vessels to Meet Floating Wind Plans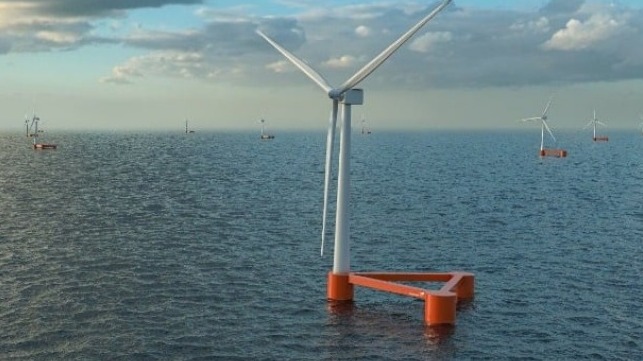 Analysts and wind farm developers have already been highlighting the growing need for vessels to support the emerging offshore industry. As the industry begins to explore floating offshore wind the need will be even more acute according to a new market analysis from Intelatus Global Partners. They are highlighting the shortage of suitable vessels, an issue that leading developers have also cited as contributing to their concerns in the market.
The new report focuses specifically on the needs of the floating offshore wind energy segment. Intelatus estimates that capital expenditure within this segment will require more than $250 billion by 2035, but the build out could be challenged by the lack of vessels able to meet the needs of the sector.
Global floating wind capacity is projected to grow to around 61 gigawatts over the next 12 years from less than 200 megawatts at the end of 2022. To achieve this, the report estimates a requirement to pre-lay more than 6,000 mooring spreads and the hook-up of around 5,400 turbines. The available market for vessel owners, ranging from pure transport and installation to full floater engineering, procurement, construction, and installation scopes of work, will amount to between $28 and $145 billion according to Intelatus.
To support this development the report identifies two segments, anchor handling vessels and subsea construction vessels, as those that will see the strongest demand to support the development of floating offshore wind. They estimate an opportunity for as much as $12 billion in shipbuilding activity required in the short to medium term to support the development of floating wind farms.
The main vessel category that will be deployed to pre-lay, tow, and hook up the majority of floating wind turbines will be anchor handlers. However, according to Intelatus, of today's approximate global fleet of 2,400 anchor handlers, less than 50 are identified as suitable and efficient for floating wind projects. They note that several designs however are emerging for anchor handlers specifically designed for commercial-scale floating wind.
"There has been no building of very large anchor handlers in recent years, and those that are active have mainly been built to service oil and gas drilling rigs and floating production systems," writes Intelatus. "None have been built with floating wind in mind, and many of the existing vessels lack one or several of the features required for efficient floating wind project delivery."
Similarly, with subsea construction vessels, Intelatus estimates that "only close to 85 out of around 500 vessels feature the capabilities required by floating wind projects."
The report identifies a further challenge which is the growing oil and gas activity as the offshore energy markets rebound and the competition it is creating for available capacity in these segments. Intelatus notes that the resurgence in the oil and gas segment is reducing the available supply of suitable vessels to undertake floating wind installation projects. Similarly, the lack of shipbuilding capacity and long lead times for new vessels will also become a factor for the wind sector as it seeks to proceed with installations.
Several of the leading wind far developers have already discussed the problems of limited installation capacity and the rising costs. Ørsted, the world's largest developer of offshore wind farms, last week detailed a litany of problems in its U.S. projects that it said could result in an impairment charge of as much as $2.3 billion. Among the issues cited is the shortage of installation vessels which they said could result in delays and extra costs. Ørsted shocked the industry by indicating that it is prepared to walk away from several of its U.S. projects due to the changing financial dynamics and the expectation that they would no longer meet the company's financial return criteria for development.