Repairs to Damaged Seawolf-Class Sub Resume After Navy Fixes Drydock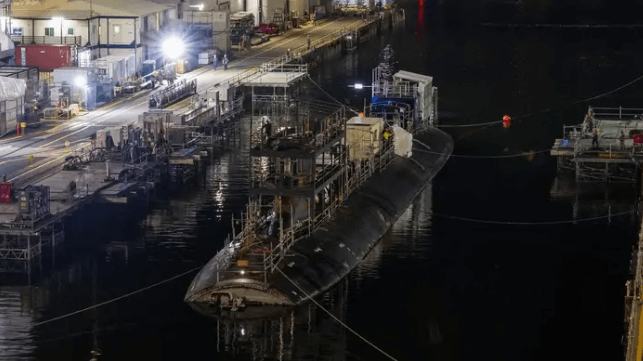 The U.S. Navy has completed seismic repairs to a strategic drydock at Puget Sound Naval Shipyard, allowing it to begin work to repair the badly-damaged attack sub USS Connecticut, which has been out of action for more than a year and a half.
In October 2021, the Seawolf-class nuclear powered submarine struck "an uncharted seamount while operating in international waters" in the South China Sea, according to U.S. 7th Fleet. 11 crewmembers were injured by the force of the impact.
Connecticut survived, but she had to surface due to the damage and return to Guam for emergency repairs. Once patched up, she got under way on a long surface voyage to Bremerton, Washington, where she would undergo permanent repair at Puget Sound Naval Shipyard. She entered the yard's Dry Dock 5 in February 2022 to begin that process; however, one year later, the service announced that it had discovered seismic vulnerabilities in the structures of Dry Docks 4, 5 and 6, forcing a halt to drydockings while the docks were repaired.
The short-term repairs to Dock 5 have been completed and certified, and Connecticut has returned to the drydock to continue her overhaul. The repair process may take 2.5 years, according to the Kitsap Sun.
Dry Dock 6 will not be repaired right away because the Navy has further plans for converting it to handle Ford-class aircraft carriers, which need extra support infrastructure.
USS Connecticut is a rare and valuable asset, especially for Western Pacific contingencies. She is a Seawolf-class nuclear powered attack submarine, a class of three hulls that were built and commissioned in the 1990s. Despite their age, the Seawolfs are some of the most advanced submarines ever delivered, and they are reportedly much quieter than the Los Angeles-class and Virginia-class boats that make up the majority of the Navy's attack sub fleet today. With a reported top speed of 35 knots and an outsized magazine of torpedoes and missiles, they are the fastest and best-armed attack subs in the inventory.
12 hulls were planned at about $3 billion each (in 1989 dollars), but like many programs representing the apex of late Cold War technology, the class was cut back to save funds after the collapse of the Soviet Union.
Today, the Navy puts attack subs at the top of its acquisition priorities. Of its existing attack sub fleet, about 18 hulls out of 49 (40 percent) are in repair or awaiting repair, according to the Congressional Research Service.