Remote-Controlled Fi-Fi Tug Makes Debut at Rotterdam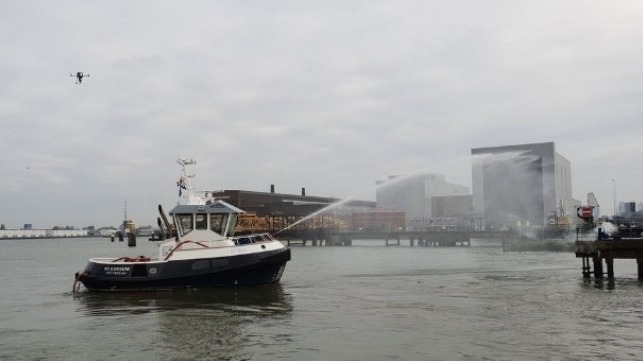 At Rotterdam's Innovation Expo 2018, Dutch tug operator Kotug demonstrated a new, remote-controlled firefighting tug for Dutch infrastructure minister Cora Van Nieuwenhuizen. An experienced Kotug captain based on shore took control of the tug via a remote, secure internet connection and video camera feeds, then extinguished a "fire" on a nearby jetty.
The demonstration vessel, the half-size tugboat RT Borkum, is a joint project between Alphatron (camera systems), Kotug (project management), KPN and M2M Blue (4G internet connection), OnBoard (steering and engine control connection), Rotortug (shipowner) and Veth (steering and engine control handover system). The partners built the tug as a commercial project without external subsidies.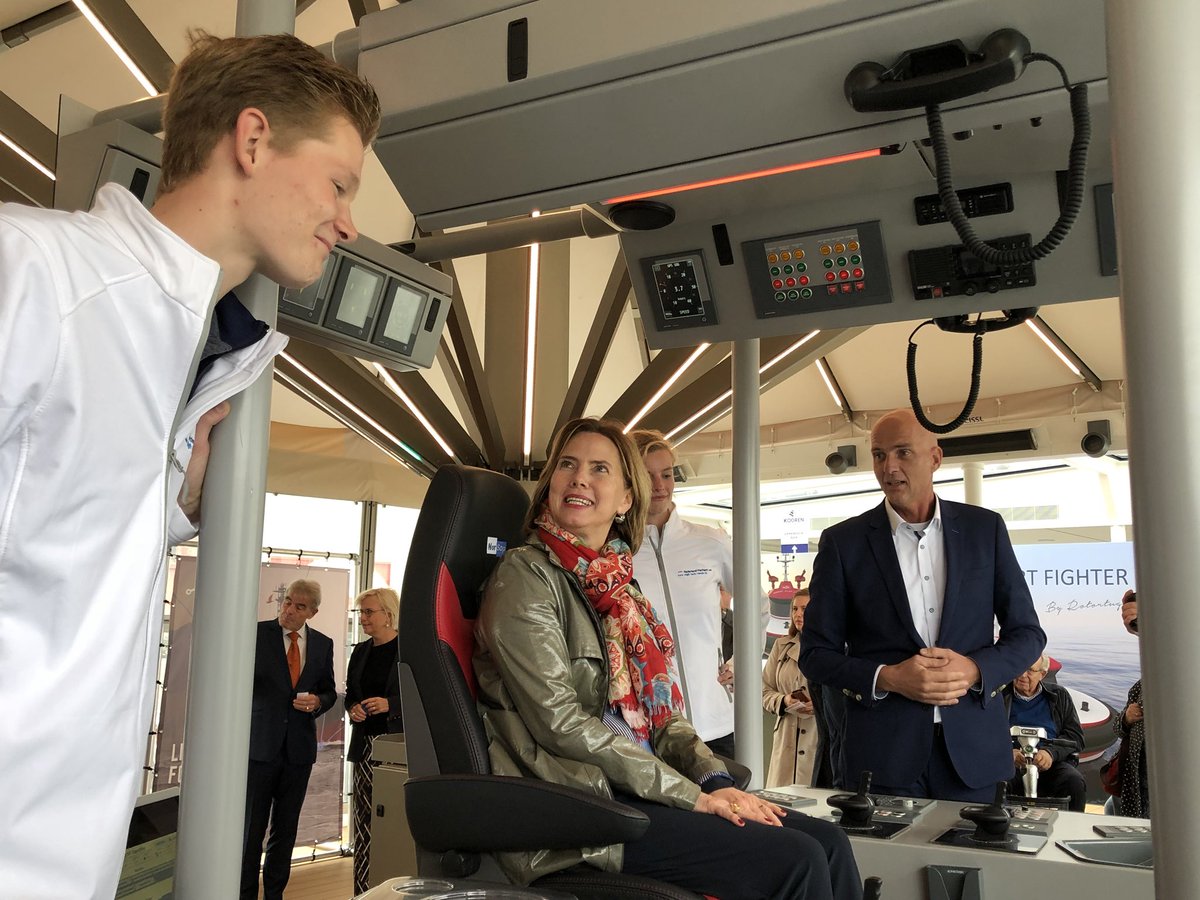 Minister Nieuwenhuizen visits the Borkum's control station (NL Maritiem Land / Twitter)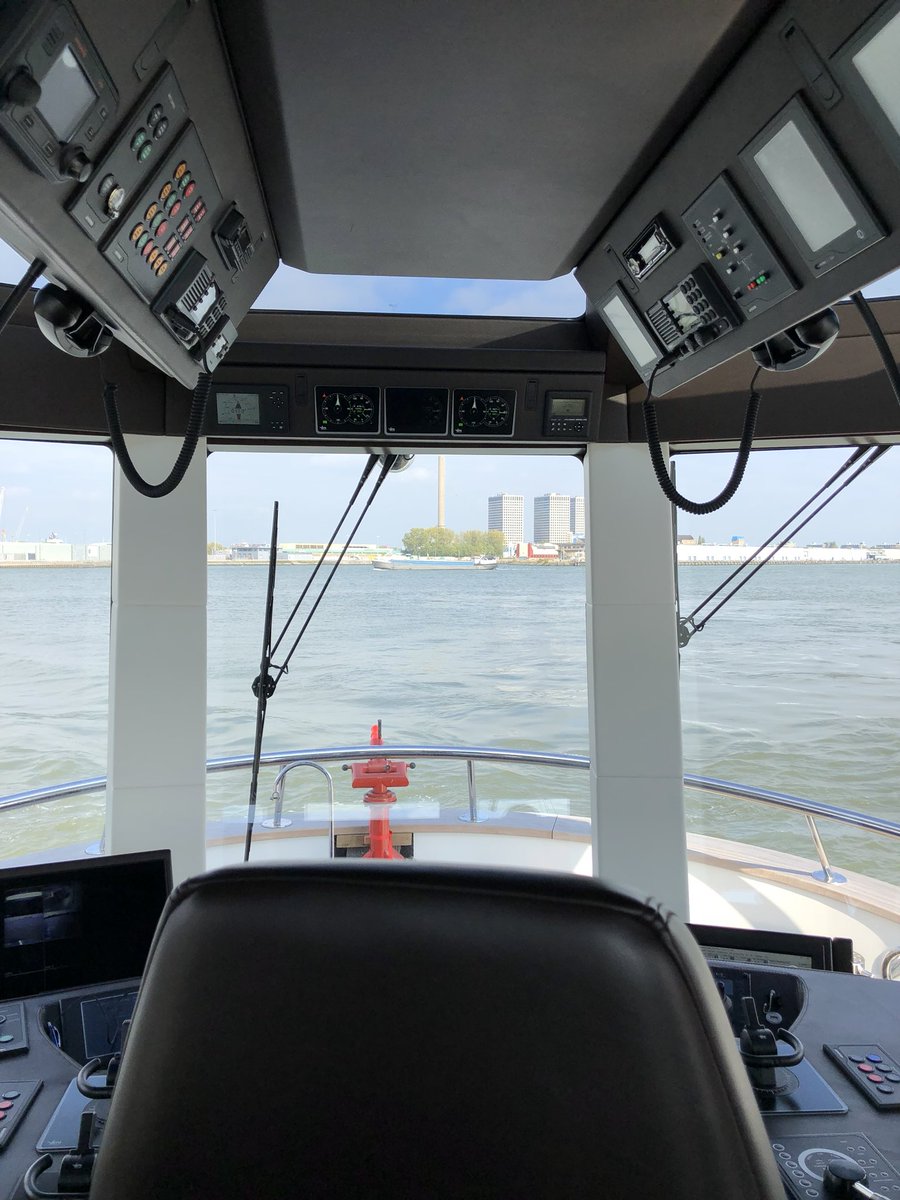 RT Borkum's empty seat (NL Maritiem Land / Twitter)
Kotug believes that remotely-controlled tugs have the potential to improve safety in firefighting applications, since no crewmembers are placed in proximity to a burning vessel or shoreside installation. The firm also predicts that the technology for unmanned harbor tug operation is getting closer to reality, if it could be combined with the use of a drone system to pass the towline from tug to ship. However, Kotug notes that rules and regulations do not currently support unmanned towing vessel operations, and it calls for amending these requirements in order to enable commercial development.
In addition to the Borkum, the Port of Rotterdam Authority's new autonomous vessel testbed RPA3 was also on hand for visitor tours. The former patrol boat has been fitted out as a "floating lab" for autonomous navigation, complete with cameras, sensors and measurement equipment. It collects data on weather, water conditions, the vessel's operations, power and engine. In addition to autonomous navigation, it will test the use of cameras for automated inspection of quays and the detection of floating objects in the port's waterways.
The port's research consortium also plans to test the integration of the RPA3's data with information from land-based sensors.
The RPA3's control station (Port of Rotterdam / Twitter)
The Expo was held at the RDM Submarine Wharf in Rotterdam South, and its key event featured panels with three Dutch ministers - Kajsa Ollongren, Vice Prime Minister and Minister of the Interior; Stientje van Veldhoven, State Secretary for Infrastructure and Water Management; and Mona Keijzer, State Secretary for Economic Affairs and Climate Policy. Port of Rotterdam CEO Allard Castelein - a leading proponent of digitalization and decarbonization in the maritime sector - also presented a keynote address.
Port of Rotterdam CEO Allard Castelein presents keynote address, Oct. 4 (Eelco Kaper / Twitter)