Realty Firm May Refurbish the SS United States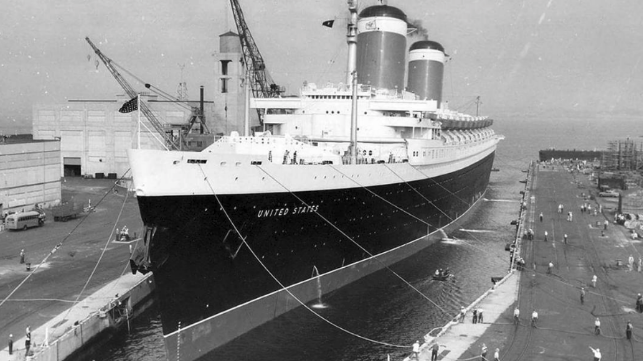 New York-based real estate company RXR has launched a new effort to refurbish the iconic steamship SS United States, a storied vessel which was once the pride of the American fleet. The 1952-built ship set an unbroken record as the fastest ocean liner on the planet, with fine lines and powerful turbines giving her a top speed exceeding 35 knots.
"Given our history of repurposing and updating some of this country's most historic structures, we are now working with the SS United States Conservancy to explore what options might exist for the ship," RXR said in a statement. "We are currently at the very beginning of this process – a process that will require substantial work on all sides."
RXR follows in the footsteps of Crystal Cruises, which conducted an extensive review and determined in 2016 that the vessel could not be rehabilitated as a cruise ship, citing "technical and commercial challenges." Crystal's six-month study found that while the vessel is structurally sound, modern SOLAS standards would have required changes that could create "stability challenges." Replacing her steam plant with diesel-electric propulsion would also have required altering her shaft lines and rebuilding about 25 percent of her hull.
SS United States alongside in Philadelphia, 2016 (SS United States Conservancy / Laszlo P. Bagi)
A retrofit for a permanently-moored application would entail fewer compliance requirements and less work on her hull and machinery. RXR will conduct a new survey to determine if altering her for a mixed-used development alongside a dock is financially viable. Unlike most real estate, SS United States is portable, and she might be towed from her berth in Philadelphia to another location, depending upon the business case.
As a top-ten real estate owner in New York City, RXR brings considerable resources to the project. It operates 69 properties with 25 million square feet of space in the Tri-State area, with a combined asset value of about $18 billion. Like Crystal Cruises, RXR will contribute to the SS United States' upkeep costs during the evaluation and planning period.
RXR's vision corresponds with the original plans of the SS United States Conservancy, the nonprofit that purchased her in 2011 with the goal of resurrecting her as a floating hotel and retail property. "We believe that RXR recognizes the SS United States' iconic significance and has the vision, commitment, creativity and expertise needed to redevelop America's Flagship," said the conservancy's executive director, Susan L. Gibbs, in a statement.