Putin Hands State Shipbuilder Over to Russia's Second-Largest Bank
VTB Bank will take over operations of United Shipbuilding Corp. under a trust agreement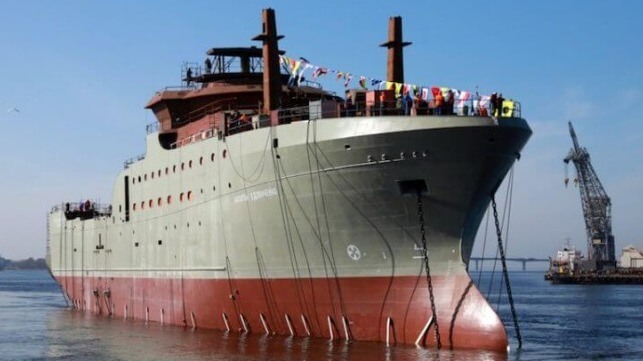 Russian President Vladimir Putin has transferred the management of Russia's state shipbuilding company to VTB Bank, a state-owned enterprise and the second-largest banking instutition in Russia. Both companies are sanctioned by the United States in connection with the invasion of Ukraine.
United Shipbuilding Corporation (USC) was founded in 2007 to manage all of the Russian government's many independent shipbuilding enterprises. It consists of about 40 yards, design bureaus and supporting enterprises across Russia. It is the largest shipbuilding company in the country, and it builds a mix of military and civilian vessel classes, primarily for domestic customers. Among its most prominent projects are the Arktika-class nuclear powered icebreakers, Kilo-class submarines and the unique floating nuclear power station Akademik Lomonosov, among many others. It is also the primary shipbuilder for Russia's deep-sea fishing fleet, which is in the middle of a much-anticipated - and much-delayed - fleet recapitalization effort.
USC's delivery timetables have been affected by supply chain interruptions, a consequence of the withdrawal of Western suppliers from the Russian market, as well as a shortage of skilled labor. USC is struggling to complete an order of more than 100 large fishing vessels, which were ordered in 2017 to meet new quota requirements but have only just begun to deliver this year. Russian shipyards have lost more than half a billion dollars on the contracts, the Federal Agency for Fishery (Rosrybolovstvo) reported in February.
According to Putin, USC is having more than a few difficulties with its finances.
"There are many problems and many questions, but it is a viable business, and is generally gaining momentum," Putin said in a readout provided by the Kremlin. "[Bankers] need to do some calculations to decide on the company's financial turnaround."
The management of USC will now be entrusted to VTB, helmed by former Russian diplomat Andrei Kostin. For a five-year renewable period, VTB will manage the government stake in USC under a trust agreement. VTB's connections and expertise will help USC restructure some of its less profitable ventures, and perhaps even attract foreign capital from "friendly" nations, business analyst Arseniy Poyarkov told RIA Novosti.
"I very much hope that your specialists, who have proved their high professional level, will cope with all the problems. This is certainly a challenge, without exaggeration; this is serious, you will be dealing with an entire industry," Putin told VTB's Kostin, according to the official readout.